Oneupweb : PPC—Getting Jobs, Hooking-Up and Starting Brawls
When people think about Pay-Per-Click (PPC) marketing, they likely imagine the different marketers and businesses using all the various channels to promote their goods and services. But there are a few out there that imagine something completely different. Below are three examples of people using PPC in innovative, creative, and maybe even creepy ways.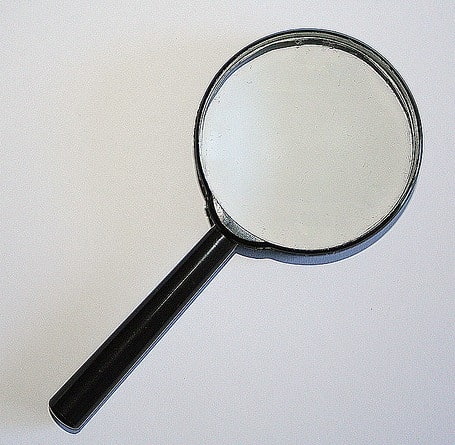 Using PPC to Land a Job:
Alec Brownstein was an aspiring copywriter who hatched an interesting and creative idea. Based upon his personal online search habits, he assumed that many of the creative directors that he admired engaged in a common search habit, "Googling" or searching their own names online. Armed with this insight, Brownstein decided to create a pay-per-click (PPC) campaign using Google AdWords to bid on the specific names of creative directors at the companies where he wanted to work.
The result of Brownstein's experiment was total success. Brownstein was hired by Young & Rubicam, an advertising agency based in New York. By the way, Mr. Brownstein spent a grand total of $6.00 on his self promotion campaign—seems like a pretty good return on investment. You can read more at CNN.com.
Using PPC to Score a Date:
Matt Simpson is utilizing the Facebook PPC platform to promote himself as well, but to a different end. Rather than trying to land his dream job, Simpson is more interested in scoring his dream mate, according to an article posted on Mashable.com. Simpson is taking full advantage of the robust targeting available with Facebook's ad platform to target women meeting specific criteria.
Mr. Simpson created ad parameters to include women who are interested in yoga, meditation and books by spiritual authors.
Though Simpson's technique has yet to produce an actual date, he was contacted by six women and spent less than $20.00 within the first week of his "campaign." So even though Simpson's campaign hasn't produced an order yet, he's rocking an overall cost per lead (CPL) of less than $3.34. In my opinion, the campaign is performing well. Especially when you consider that he has to overcome the creepy factor (not to mention that a relationship is a fairly considered purchase).
Using PPC to Start Some Beef:
For this example, we have to pilot our way-back machine to the year 2007.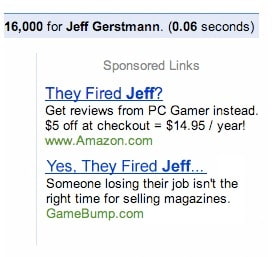 Back then, the gaming blog GameBump.com took offense to an AdWords PPC ad created by the magazine PC Gamer. When Jeff Gerstmann was fired as the editorial director at GameSpot, there was a swell of media interest surrounding the incident. PC gamer decided capitalize on the increased attention by both bidding on Gerstmann's name and crafting ad copy speaking to his firing.
In response, GameBump decided to create an AdWords ad of their own. The ad, which appeared directly below the PC Gamer ad, opined about the tactfulness of offending PC Gamer advertisement. This ad war eventually resulted in the PC Gamer ad being removed. GameBump chronicles the entire event on their blog.
Are you ready to leverage PPC in a new and innovative way, but don't know where to begin? Contact an expert like Oneupweb. We might not be able to get you a date, but we would love to help you reach your business goals. And please share any weird or interesting PPC stories in the comments below. We'd love to hear about your experiences!