Oneupweb : One Button To Rule Them All
Facebook recently announced another new social plugin for third-party websites. In addition to the Like button, Comments, Activity Feed, Recommendations, Like Box, Login Button, Registration, Facepile, and Live Stream, the social network has now added the Send Button to the mix.
Keep in mind that outside of Facebook there is a Tweet button, a StumbleUpon button, a LinkedIn share button, a Digg Digg plugin, a ShareThis plugin, and even a button to email a piece of web content to a friend (or enemy, whatever your prerogative). Oh, and don't forget Google's +1 button. And that's just the beginning! The amount of social plugins available to third party websites is practically infinite. While each has its own unique attributes, I often wonder how we're supposed to keep it all straight, and I can't help but wonder when the clutter will end.
This brings me to one simple question: Which social plugins will/does your audience use? Notice I didn't ask what they want to use or what you want them to use. Because when it comes to social plugins cluttering up your web content, want just isn't an option. You need action.
In my humble opinion, the most important social plugin out there currently is the Facebook Like button. I have two reasons for stating this, both of which could change tomorrow (because we all know that online, things change at the drop of a hat). The first is simple—Facebook is the most popular social network today. It's where people spend their time. Therefore, it seems as though the Facebook Like button would be the most valuable social plugin overall for third party websites. The second is that it's also the most recognized. I think people feel comfortable clicking on the button, and recognize immediately what it is and understand how to use it.
So will the Facebook Send button be just as important? Only time will tell. But it appears as though Facebook wants us all to use the Send and Like button together. In fact, it's what they are doing on their own Social Plugins page: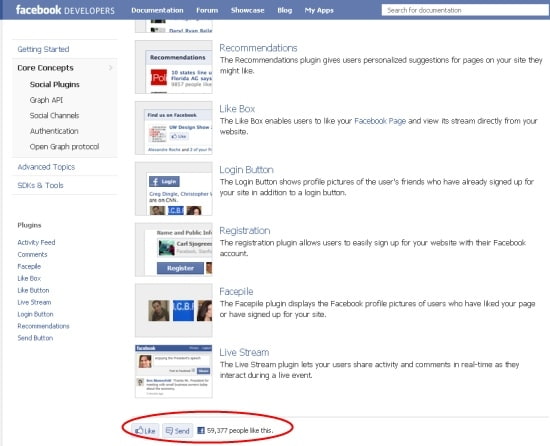 Used in this instance, it looks clean. But what about those other websites that are already using several other social plugins, beyond Facebook? Take Mashable, for instance (pictured below). With all of the options available, which do people really feel compelled to click? And what about blogs that are nowhere near as popular as Mashable? Are too many options just causing noise pollution on the page?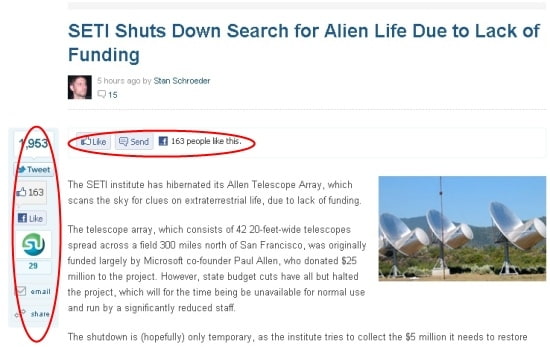 What we need is one button to rule them all. But who will play the role of the Dark Lord Sauron? Mark Zuckerberg? Larry Page? And are the two companies these individuals head-up already relying too much on the Facebook Like button and the Google +1 button, binding their "power" with these social plugins—so much so that they could become dependent on them?
*I have to give credit to my co-worker Adam for the blog title. Thanks for the inspiration!