Oneupweb : Facebook Updates Ad Analytics
Have you noticed some changes to your Facebook ad analytics tool? You're not the only one! In fact, the changes Facebook is making to its Ad Manager will go into effect for everyone May 25. What are these changes, and how will they effect your business? Read on to find out.
What are the changes that are being made to the Facebook Ads Manager?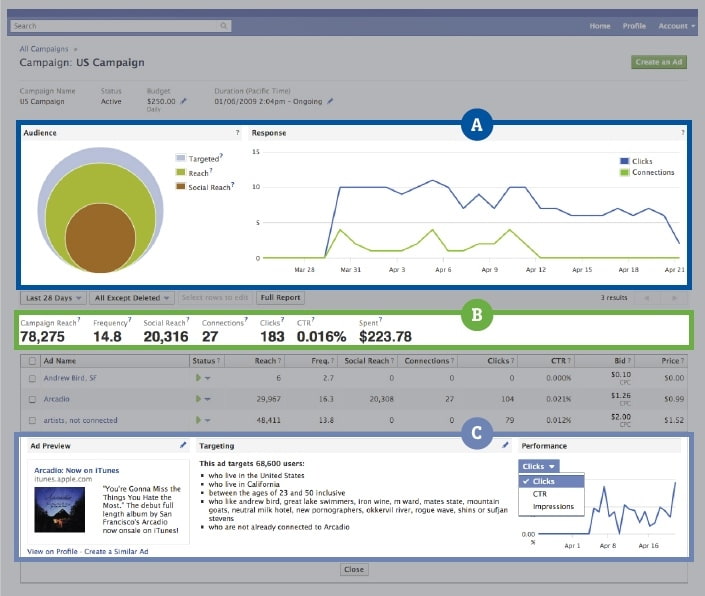 Improved Performance Graphs
According to Facebook, a new graph depicting "how many people your ads reached, compared to your total target audience in the last 28 days," can help you determine whether or not you need to raise your bids and budgets. This is depicted in "A" in the image above.
New, Real-Time Measurements
Campaign reach, frequency, social reach, connections, clicks, CTR, and amount spent are new metrics that are being introduced to help you determine the value of your ads and Sponsored Stories. These metrics are designed to give you a clear picture of how your audience has responded to your message. This is depicted in "B" in the image above.
Inline Ad Management
This allows you to manage your ads on one page. Previously, you had to click back and forth between pages to see all of the details for your ad. This feature should be especially helpful to brands running multiple ads on Facebook. This is depicted in "C" in the image above.
How will these changes effect your business?
Facebook is finally giving advertisers a way to measure their ads that make sense in the social media world. You can now see how many people your ads can reach based on your targeting, quickly and easily determine the number of people who actually saw your ads, the number of times someone saw your ad, and finally, the number of people who "liked your Facebook page, RSVPed to your event, or installed your app within 24 hours of seeing your ad." This will help you decide if you've selected the best targeting potential for your ad, generate word of mouth for your business, allow you to better manage your bids, and evaluate the kind of active presence you are creating on Facebook.  In other words, these new metrics and features should help you better understand how effective your Facebook ads are, and why.
What do you think of Facebook's changes to their Ads Manager? Are these changes you've been hoping they would make for a while, or are they just confusing? Let me know in the comments below!