Oneupweb : Oodles of Doodles
Google wanted to capitalize on the popularity of their Google Doodle feature, so they launched a contest called Doodle 4 Google. What's a Google Doodle you ask? It's when the Googlers (what they call themselves at Google) switch up their normally minimal homepage to reflect some historical event within their logo. Some of the doodles are global and some are for specific countries. When you click on the logo, you are taken to a results page to tell you about what is being depicted. This may not seem like a big deal, but when you spend the entire day on the Internet, it's a nice little surprise of fun facts for your day. For example, look at today's Google Doodle (located below), which spotlights the 76th birthday of the late Roger Hargreaves (illustrator of children's books).
Doodle 4 Google is a contest that was aimed at children across the US asking what they would like to do someday and asking them to represent their dream in a Google Doodle. The finalists are posted now; there are some really creative and well drawn doodles. The winner will receive a college scholarship and technology grant to the school of their choice.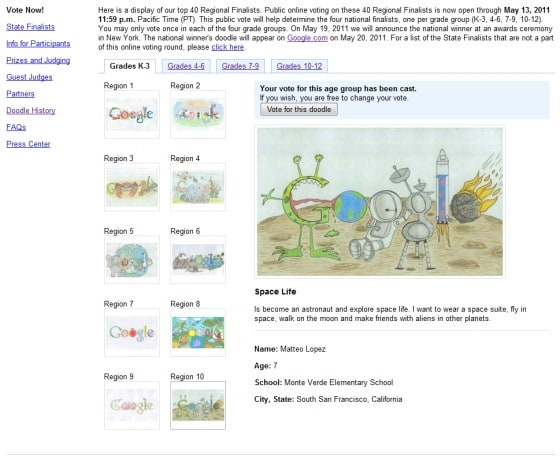 While Google displays their doodles to inform and entertain the millions of people that use their search engine, I can't help but think this is their way of trying to give off some warm fuzzies and connect on a personal level with their users. Either way, they are fun and usually unexpected. Today's doodle is especially fun, because it changes every time you visit the homepage.
Don't forget to vote for your favorite Doodle 4 Google. You can vote through Friday , May 13, 2011. I've already submitted my vote! There are some really talented young artists in the finals, so your decision might not be easy. What are your thoughts on Google's Doodles? Do you have a favorite? I'd love to hear your thoughts below.