Oneupweb : Blog This!
OMG! How am I going to do this? A BLOG??! I have to write a BLOG? I laughed when I got the email my coworker sent me explaining that I had to contribute to our corporate blog (StraightUpSearch). I had a comical reaction: LOL! ROTFLMBO!
As I read her email, I thought….she has to be KIDDING! She is. I know she is!
She even beautifully embellished this email with flowers, so bright and cheery, with encouraging words like "should take no longer than 30 minutes to write" and "it should only be about 300 words"… and she explained I had two weeks to complete my post.

She even said she looked forward to reading it!!  Ha ha ha ha ha! As I kept reading, I knew this just had to be a joke! And then she signed it:  "Cheers and thoughts of spring, Hillary."
Have I said O.M.G. YET???? At least they have a sense of humor here at my new job of 4 weeks! I feel like Mikey in the cereal commercial…"Hey, let's get Kathi—the new girl—to do it! Hey KATHI…"
Geesh…do they know what they're asking of me?
I do numbers. I do payroll. I work in accounting. I pay bills; I reconcile bank and credit card statements. A/P and A/R are terms I understand. I can decipher profit and loss statements; prepare monthly and quarterly payroll tax returns. I can email, I can circumnavigate around QuickBooks, Outlook is easy, I can even set up a database in Access! Job related stuff I can do and yet, I'm not a math whiz either!
In my personal life I run my household all by myself as a single mom! I can manage a Homeowner's Association. I can be the treasurer for a running club and my son's Boy Scout Troop. I can turn my computer on and off–I even set up the wireless in my house. I can get on Facebook and I text (even know a few abbreviations). If I need to know facts about an upcoming event, which mushrooms are poisonous, what my son's little league schedule is, whether my daughter is succeeding or failing in her college classes, or how to use GPS on my i-phone or program the one in my car–I can do ALL OF THAT–and even MORE!!!
So I'm not totally inept! Hey, I can even take door knobs apart and reassemble them, change bike tires, run my snow blower and lawnmower, and build steps for my front porch. Moreover, given the choice–I have kids who can do all that for me! I don't HAVE to! I simply turn my phone over to them, give them my passwords to everything, I've even given my daughter's boyfriend carte blanche access to my refrigerator if he will do all the "technical" things for me so I don't have to (Note:  I'm at the 15 minute mark and about 391 words).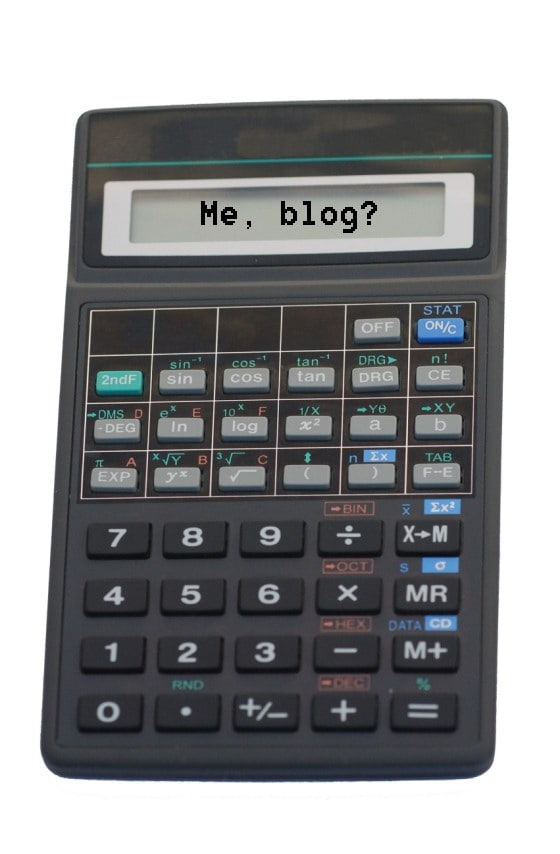 But–write a BLOG??? First, what IS a blog? How do I write one? And what is it going to be about? If Hillary really does intend for me to do this…I guess I need to know! If they expect me to write a blog about computers, technology, digital marketing, websites and design elements, or how to sign on a client who's going to have blind faith that Oneupweb can make them money–OMG! I'm getting my resume out and going to start working on it again. That stuff is so far over my head I can't even BS my way through a blog about that! AND, it's going to be published in our company blog, StraightUpSearch? Please, Hillary…tell me you're kidding????
But wait….Hmmmmm. An idea bubble is forming over my head! I wonder…I wonder if Tyler (my daughter's BF), will write a blog for me. He's very computer savvy. He's a straight "A" student in college. YES! I can do this! WE can do this! Who is going to know? Whew! Relief! I've got it all under control now! Happy Kathi! Problem solved!
I work with all these smart whiz "kids" at Oneupweb who get on computers and produce these amazing websites that I take for granted. They coerce huge companies to spend money on intangible things like 'pay per clicks', 'search engine optimization', and they toss words around like XML, writing code, ROI Trax search, site copy, META optimization, spends, bid management, etc.—leaving my mind spinning in the dust of their dialogue! Our trailblazer boss has so many awards for her achievements, involvement and accomplishments in the "digital" world (another word–digital–so over my head here)….I just am overwhelmed hearing her story and how she got HERE!! I'm amazed, impressed and awestruck at all the "smarts" in this building–from the top person to our latest new hires! I want to learn what everyone "does" here, but there is no way possible to DO that inside of 4 weeks on the job!
Was this "blog" requirement even mentioned at my interview? If I didn't like my daughter's BF before, I will so LOOOOVE him now if he will do me the favor of writing my blog post. I'll give him my credit card and he can go to the grocery store and get all the food he wants…
Ok. Deep breathe. Huuuuge sigh! I suddenly felt the world taken off my shoulders when Hillary stopped in to my office to "reassure" me. To support me. To bring my blood pressure down. She patiently answered my blast of questions! She released me from the burden of having to write about this new technical world I've stepped in to! Thank you Hillary! Girl–YOU ROCK! I'll give you all the granola (she's been happy about the homemade bulk I've been sharing at Oneupweb's coffee bar) you want! Now, I just have to find something to write about! And, what is that Hillary? It can be about anything? I can even write about my ignorance in a world you all are so astute in? YES! YES! YES!
So, at the final hour (I'm taking you at your word, Hillary, that it's a 30 minute project), I'm writing. It's not quite so bad. Okay…so here goes….I'd better get on this….Hillary's going to be here bugging me for this BLOG any minute…. Wow! The pressure…..and my grocery bill will not even have to skyrocket! I can do this……
I'm done! However, I just re-read her original email—Blogs have to be submitted about once a month by everyone. OMG ugh! Wonder how much of a story I can get out of my calculator next month…..
– Kathi Murchie,
Accounting Manager | Oneupweb