Oneupweb : The Social Search Battle—Who's Going to Win?
Three days after Bing rolled out the new "Friend Effect" social search layer—which produces personalized search results based on what your Facebook friends are "Liking" and sharing across the Web—Google has announced that it is expanding its Social Search layer to more global users.
According to Google, Social Search will now be offered in 19 languages in the coming week—and we can expect more languages soon.
As a quick refresher, Google Social Search rolled out in 2009, and how it works is similar to the way that the Bing "Friend Effect" works, in that Google will personalize your search results based on social connections. The big difference: Google does not have the Facebook data that Bing has.
Social search is all about providing personalized, relevant results based on your social connections.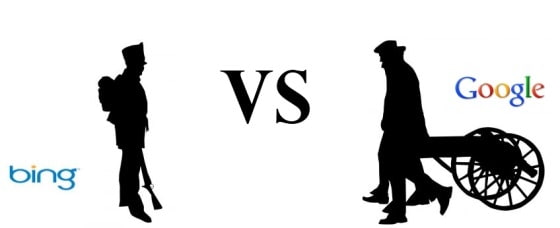 The problem for Google is that most of your social connections and activity are likely on Facebook, not Google Buzz, not Google Chat, not Google Reader, and likely not Twitter or Flickr either. So how often can Google really tailor your personal search results with recommendations from your closest friends, when it's missing key data from the most popular social website in the world? More importantly, how relevant can Google's social layer be without Facebook?
The problem for Bing is that, even though Bing-powered search (which includes Yahoo) now has over 30% of the U.S. market share, Google is still king of search—for now, anyway.
Google recently rolled out the +1 Button, which many are calling its version of the Facebook "Like" button. And there are rumors that Google's also working on a broader social networking service that will combine features and connections from several Google properties, including: Buzz, Gmail and YouTube.
With all of Google's properties and aggregate data at their disposal, there's certainly potential for the company to build a meaningful social network, but personally I think time is running out for the search giant to get social search right.
After all, Google became the powerhouse it is today, because it provided the most relevant search experience. Social media is changing that, and adding a whole new layer of relevancy. More specifically, Facebook is changing that.
There will always be the need for search engine bots to crawl and index the Web, rather than solely relying on the relatively small amount of content discovered and shared by your social circle. But it's hard to argue that the potential behind the idea of social search is extremely appealing and valuable.
Right now, I believe Bing is in a much better position than Google to make social search relevant—and more importantly for Bing, relevant enough to steal market share from Google.
Now if only Facebook would just build a good search engine—which they have the talent to do—I think we'd have a clear winner in the social search race.
Let us know your thoughts. Do you feel social search is helpful, and where do you think it's going next?