Oneupweb : Social Media Marketing—Go Big or Go Home
I've written in the past about embracing social media to drive leads and sales, imploring advertisers to look past the fuzzy conversion attribution. Many marketing managers of "traditional" eCommerce sites, born of the catalog business and brick and mortar retail, remain wary of the channel. They turn their noses up at jumping in with both feet and settle on a modest test of what they're comfortable with—tiny ad-based campaigns on Facebook with puny budgets and limited lifespan.
Starbucks gets it. They've partnered with Lady Gaga to leverage her massive online following. She has 10 million Twitter followers and 30 million Facebook fans. I'm not a fan of her music, but I am now a big fan of her business acumen. These numbers are huge! And her online following is a very desirable demographic for companies like Starbucks. What they're doing with Gaga is pure genius and on a massive scale.
All you Gaga fans head to Starbucks' Facebook, Twitter and Foursquare sites to get details on a Lady Gaga scavenger hunt. From the Starbucks Facebook page—"Scan the QR code in Starbucks stores starting today to get started, you can win great prizes along the way and even a chance to meet Gaga!"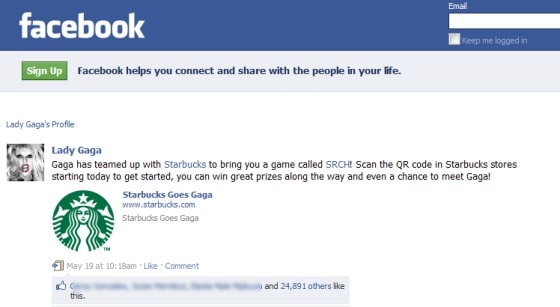 Starbucks gets more traffic in their stores and to their Social Media properties. Brilliant! Gaga engages with her fan base during the hype of her new album release. Brilliant!
All you cautious marketing managers out there – This is how it's done. Think big. No think
huge! Commit the resources, dive in, make a big splash! Dipping a toe in the water to test Social Media marketing just doesn't cut it in the age of Gaga.