Oneupweb : Twitter, Facebook and Google Changes You Need to Be Aware Of
Sometimes it seems like things change in social media overnight. With so many different networks, and so much going on, it may seem impossible to keep track of it all. To help you sort through the clutter, here are my picks for the top 5 recent social media events that you need to be aware of.
1. Facebook Introduces New Ad Analytics

In mid-May, Facebook announced a "new" Ads Manager. Basically, what this means is that Facebook has changed the look and some of the categories of statistics that it provides to its advertisers. Specifically, there are new graphs that show how many people your ad has reached compared to your total targeted audience. There are also new metrics such as reach, social reach, frequency, and connections. And finally, inline ad management (no need to click back and forth between screens—all your information will appear in one screen). You can read more about these changes here.
2. Twitter Has Purchased TweetDeck
Finally, after months of rumors, it has been confirmed that Twitter purchased TweetDeck for somewhere around $40 million. So will Twitter shut down TweetDeck? Will it continue to invest in it? That remains to be seen.
3. Google vs. Groupon
At first, Google wanted to buy Groupon. But that didn't happen. So now Google is set to launch their Groupon competitor, called Google Offers. Will it be enough to take down the daily deals giant? Time will only tell. But as one Twitter user said, "…it is Google."
4. Facebook Users Can Now Tag Photos With Names of Pages
It's an update I know my roller derby team was looking forward to! You can now tag Facebook photos with the names of Pages. See a can of Coca-Cola in someone's hand, and you already Like that page? Go ahead and tag it as "Coca-Cola"! This new tagging allows Pages to get mentioned more frequently in people's news feeds, and helps populate brand pages with more fan photos. An example is below: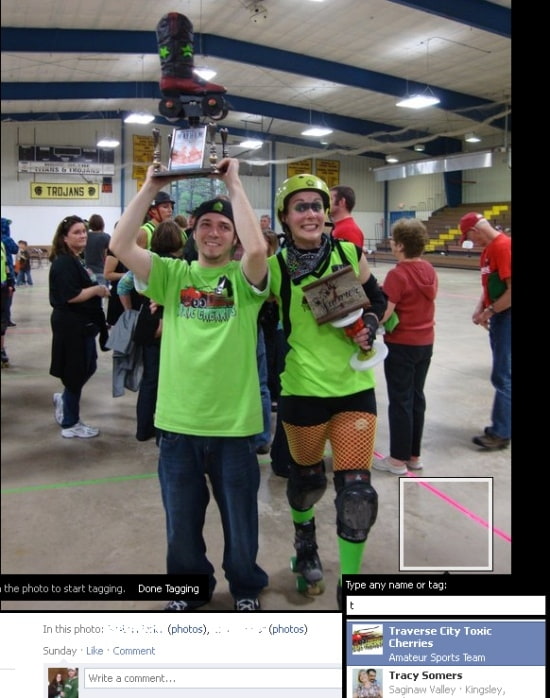 5. LinkedIn Goes Public
According to Wharton.edu, LinkedIn went public on May 19, "opening at 84% above its initial offering price on the first day of trading and, after shares continued to climb, closing out the day valued at an impressive — and unexpected — US$9 billion." How will going public change LinkedIn? And what does this mean for other social networks (specifically Facebook)? We'll just have to wait and see.
Did I miss any big social media news that you think should be included in this list? Let me know in the comments below!