Oneupweb : AdWords Location Extensions—Why Pay Less?
Does your PPC campaign make use of location extensions? Location extensions officially rolled out in 2009, and according to Google they "allow you to "extend" your AdWords campaigns by dynamically attaching your business address to your ads." Not only do these extensions allow advertisers to show a business address, but they also provide searchers with a business phone number and directions to the business location.
Many advertisers quickly adopted the use of location extensions for many reasons. Among other things, ads that utilize these extensions tend to stand out on the results page, location extensions can make it easier for customers to find local businesses, and they allow for a fairly seamless integration with Google Places. But now it appears that location extensions are also going to force advertisers to open their wallets a bit wider.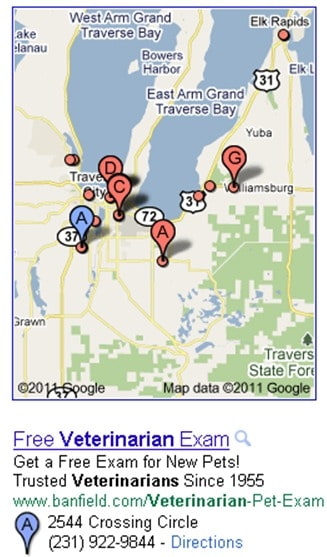 On May 27th, Google announced a couple major changes regarding location ad extensions. A recent post on the Google Official AdWords Blog stated the following:
"Over the next few weeks, you'll see performance metrics for directions alongside those for clicks and phone calls. We'll also begin to charge for clicks on directions in the same manner as clicks on your ad's headline or phone number. If your campaign has a high number of these clicks, this indicates that your customers are interacting with your ads to get directions to your business."
So, what does this mean? It means that Google is going to provide more detailed metrics regarding how many users interacted with the directions link provided within the ad (which is great). But it also indicates that Google is also going to start charging for these interactions (not so great). To learn more about the changes being made to location extensions, and to read through the FAQ's, check out Google's official AdWords Blog.
Of course, if all of the recent AdWords changes are making your head spin, you can contact an expert like Oneupweb. Growing businesses is what we do, and we would love to help you reach your goals. And please share your thoughts about this latest change through the comments below. We'd love to hear your opinion!