Oneupweb : Facebook Never Forgets A Face
For the most part, I know my place. I know I look ridiculous in a v-neck and I know I'll never be cool enough to pull off leather pants (those are cool, right?). That's why I had some hesitation about writing on the social media scene when my rightful home is with search. However, after hearing recent news that Facebook is implementing a face recognition feature that is turned on by default, and some general Facebook griping that ensued, I felt compelled.
Initially, all I heard was that Facebook had new face recognition technology that automatically tagged you in photos. Naturally, my first reaction was a fear that I could no longer anonymously be "that guy" in the background of other people's photos. Thankfully, that's not how it works…
With Facebook stating that more than 100 million tags are made a day, the goal with this new feature is to streamline the process. So, rather than tagging the same person over and over in your album, you can tag one photo and Facebook will group similar photos, find that person throughout the album and suggest them in the remaining photos. In Facebook's official blog post about the update, they use the example of how this can be a convenience when tagging multiple pictures from an event such as a wedding. Personally, and I believe I speak for the masses on this one, I don't want to be tagged in any photo that took place after the first toast during the reception.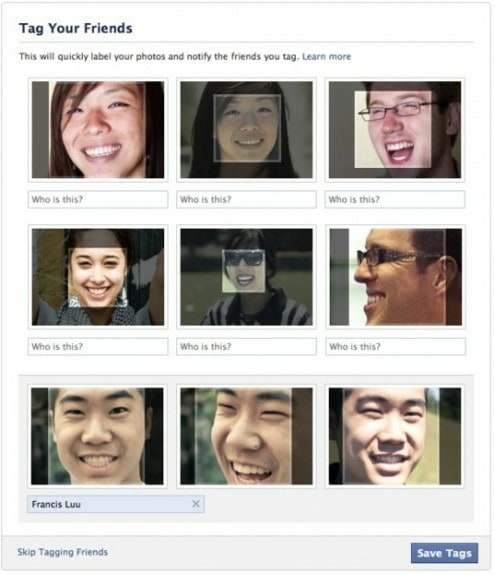 From a convenience standpoint, this new feature certainly has its benefits. But what about privacy? Is it necessary that like nearly all new features on Facebook, it is "on" by default? Is it necessary for them to make everything so difficult to turn these things off?
The technology is nothing revolutionary, Apple users have been enjoying this on their Macs for some time now as a way to organize personal albums and Google recently developed a facial recognition app. The difference? Apple's technology doesn't stretch beyond your machine and Google, well they dropped the idea for the time being, stating "As we've said for over a year, we won't add face recognition to Goggles unless we can figure out a strong privacy model for it.  We haven't figured it out."
As always it comes down to being an informed user. What may work well for quickly tagging 75 pictures of your cat Mr. Snickers playing with a newspaper may not be ideal for calling out everyone that was at a kegger. Social media is a valuable tool with extensive personal and professional benefits. Users should be regularly checking their privacy settings and keeping up with updates to the social media channels they are involved in.
Oh, and you should still avoid being "that guy" in the background of photos, especially if you're rocking leather pants.