Oneupweb : Facebook Launches Account Groups
So you want to advertise your business on Facebook, but which employee do you trust to run your ads through their personal account? This means trusting them to upload all of the creative, write the copy, check on the daily performance of your ads, and pay for the ads through their personal Facebook account. It's a bit of an issue.
Or, say, you've setup a business account with Facebook—which means you have the credit card thing figured out. But now you need to give that log-in and password to someone to manage your ads. Or maybe you need to give it to several employees. Or maybe an agency is handling this all for you. Again, several issues arise with these different setups.
(Cue superhero music) It's Facebook to the rescue! The popular social network just recently launched Account Groups.
Account Groups allow agencies to group together and access multiple Facebook Ads accounts simultaneously.
According to InsideFacebook and shown below, members of these groups can be set as administrators or general users, can be given access to reports only, and can always be removed by the original administrator.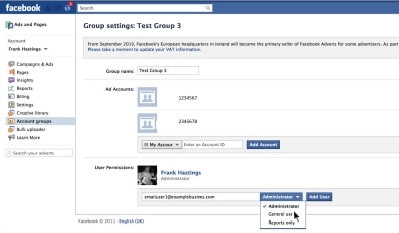 So it appears that Facebook is trying to give companies better control over their Facebook ads, and how and who is running them.
What do you think of this new change? Is this something your company has been struggling with? I'd love to hear your thoughts!