Oneupweb : Social Media in Music Promotion
It's that time of year again. Hundreds of thousands of music lovers across North America are gearing up to camp out for multi-day music festivals across the country. This year, the field of music festivals competing for attendees is denser than ever before. Festivals have to put together a strong digital presence and a comprehensive online marketing strategy—in addition to a killer lineup—if they hope to draw in the numbers.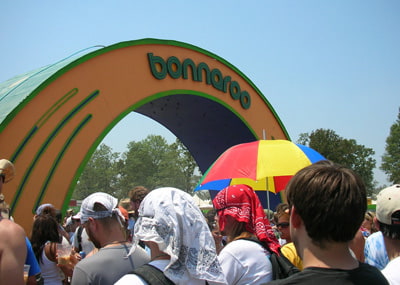 Starting off with the "big one", the Bonnaroo Music & Arts festival sold out of tickets for the 2011 festival season. Taking a look at their web presence, it's not hard to tell why. In addition to having a deep website with a wealth of content and information, Bonnaroo has been aggressive in its social media push. Both their Facebook and Twitter accounts are regularly updated multiple times a day with content geared towards drawing in new attendees and maintaining a level of enthusiasm for those who have already purchased tickets (encouraging word-of-mouth recommendations). Bonnaroo is a fantastic example of how digital marketing, done right, can reap substantial rewards in the music festival scene.
Next up is Summer Camp. This music festival has been pushing social media harder this year than in years past. Half of its homepage is dedicated to social outlets for you to use to network with the festival itself and fans/attendees. Updates via both Facebook and Twitter, ramping up in frequency as the event approaches, serve well to foment interaction. Although the scale of the Summer Camp is only a fraction of Bonnaroo, they have been able to successfully utilize social media outlets for promotion and communication.
Finally there is Electric Forest. The spiritual successor to Rothbury and in its own inaugural year, Electric Forest faced stiff competition from other well-established music festivals this season. In order to build momentum and awareness of the event, Electric Forest festival leaned almost towards a "crowd sourcing" model of social media outreach. In addition to the typical offerings of updates via Twitter and Facebook, Electric Forest pushed its fans to create original video content & poster artwork, and in exchange for prizes ranging from free tickets to spots dancing onstage during the headliners sets. Despite the more limited scope and size of Electric Forest, social media promotion has greatly helped to build awareness of the festival.
At this point, I predict the number of music festivals we will see in 2012 will increase to an even larger number. As a result, the competition over potential attendees will become even more fierce. As social media increases its role as part of the marketing mix, expect to see even more novel and original ideas coming out of these outlets from event promoters. If you're interested discussing more with a social media team that can deliver kick ass results, head on over to Oneupweb.com and take a look at what we can do for you.