Oneupweb : Anatomical Inspiration
As a creative individual, it's important to stay ahead of the design game (or at the very least, as caught up as possible). Being inspired is an important step in that process. There are many places to draw creative inspiration from: books, other people, the environment (hello Traverse City!), and of course, the internet. Nowadays, there are art and design websites everywhere; I probably don't need to tell you that.
In college I had to take a science class to fill the general education requirements. I chose "Anatomy and Physiology", mostly because it was the only one that fit my schedule. But I've got to tell you, nothing has continued to inspire my creative work more than what I learned in that class. I have a fascination and appreciation for the human body and the structures that make it up. The skeletal system was my favorite to learn about and what I am still most drawn towards. I almost spent $20 just this weekend on a hand cream that I didn't need, just because it had a skull on it.
Two of my favorite blogs are based on anatomy. Skull-A-Day was started by Noah Scalin, a graphic designer from Virginia. He decided one day (out of the blue, or so it sounds) to make something every day for a year. To give the project some cohesion, a human skull was chosen as the subject matter. So every day for a year, he made a skull, in mediums ranging from paper, found objects, carved vegetables, rubber stamps, spray paint, and so on. The best part? He didn't stop after a year. This project is now in its FIFTH year, and now includes creative skull submissions from readers. To make something every day is such an inspiring concept, especially when there are bones involved.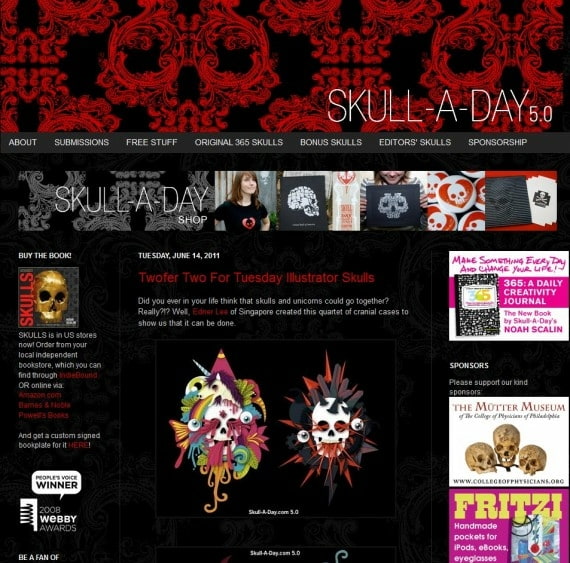 Next up is Street Anatomy, created by medical illustrator Vanessa Ruiz. This super-cool site posts on graphic, fashion, furniture and product design, illustration, and fine art that has anything to do with anatomy. One of the first posts I saw on this blog was a set of drawers, in the shape of a female torso, and hidden drawers all over it. Some of my favorites are the tattoos: I love the style and concept behind tattoos in the first place, and when combined with anatomy? WA-BAM, awesome.