Oneupweb Review : Roger Ebert's "Jackass" Tweet
Famed movie critic Roger Ebert tweeted: "Friends don't let jackasses drink and drive" on Monday, soon after it was announced that Jackass member Ryan Dunn and his passenger, Zachary Hartwell, were killed in a car crash. Dunn was behind the wheel of his Porsche with a blood alcohol concentration over twice the legal limit. And according to a West Goshen Township press release, Dunn was driving between 132-140 mph.

Ebert followed-up with another tweet and a blog post the next day to provide more insight into the controversial tweet: "I should clarify: Anyone who drinks and drives is a jackass. That included me in my drinking days. Some are lucky enough to find sobriety." As he notes in his blog post, some readers felt this was his way of refusing to apologize.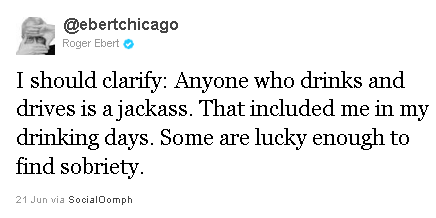 Ebert's Facebook Page was also removed for a short time on Tuesday morning. Facebook claimed Ebert's Page violated Facebook's Terms of Use.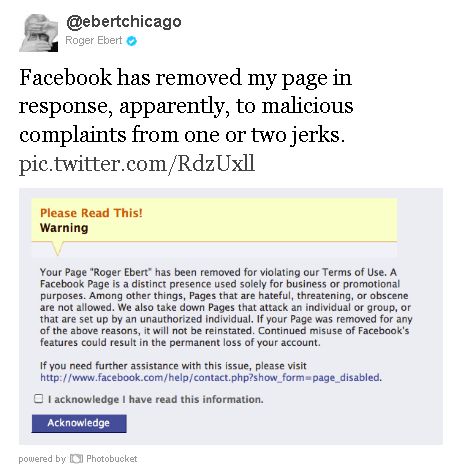 Was Roger Ebert's tweet insensitive? Or did he speak the truth? Or is it not so black and white?
Before the controversial Twitter post was even published, Ebert first tweeted: "'Jackass' star Ryan Dunn, RIP. His Porsche flew through 40 yards of trees. http://bit.ly/jn2qWV."
Obviously, this is a very sad situation. Two people are dead because poor decisions were made. But was it a wise choice for Ebert to publish what he did? Some people think he spoke the truth; others think his tweet was in poor taste.
What do you think? Please leave your thoughts in the comments section below.