Oneupweb : Google+—What Is It And Why Should You Care?
Well, you can slide on back from the edge of your seat…..the wait is finally over. Google has rolled out its long-awaited social network, calling it……(drum roll here)…..Google+.
Not a big fan of the name, but it's just a name. Let's talk about what it does, starting with….
What is it?
I'm glad you asked. As its root, it's a social network, one that many are already calling "Google's answer to Facebook." Or…."The Facebook competitor." I've also seen…."A hybrid of Facebook and Twitter."
Basically, Google+ is a communications tool that has some of the same features as Facebook and Twitter…and Skype, and Flickr, and GroupMe, and a number of other communication tools.
It's a new place you can visit to be social and share information. So let's dive right into the specifics…
What does it do?
A fair amount. Google+ has a number of features that both compare and distinguish it from other social outlets. And here they are:
Circles
Now this feature I really like. Google+ allows you to create "Circles" of friends, family, co-workers, and other acquaintances with easy drag and drop functionality.
The benefit? You can easily segment groups of people and choose which information to share with each…rather than a widespread broadcast to every one of your connections.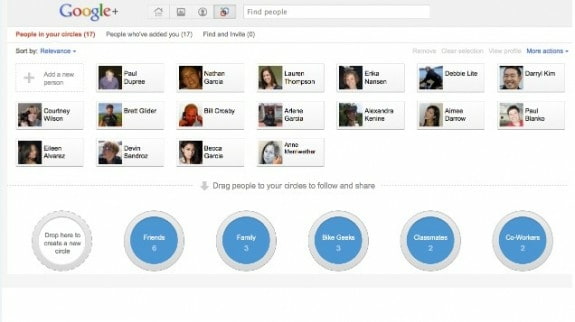 Facebook also allows you to be selective with who you share information with, but it requires you to build Lists and Groups and is not as straightforward as Google+. Now the question I have been asking with each Google+ feature is, "Is it enough?"
Is it enough to lure people away from Facebook, or Twitter, or some other network they use? Or, if not lure them away, is this feature of Google+ at least enough to get someone to try it? And I ask, because this is Google's biggest issue in gaining traction with any social tool they build….is it enough of a difference from other tools out there that anyone will care?
And, relative to that question, I think Circles has potential. A lot of people are dissatisfied with the hoops they have to jump through to segment their friends on Facebook. I think we all have our "friend speak," which can be quite a bit different than our "mother-in-law speak."
Hangouts
In a nutshell, Hangouts is a video-based group chat.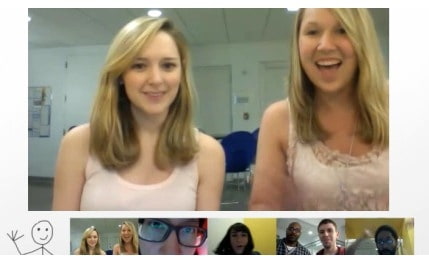 This Google+ feature allows users to "hangout" with different Circles they've created in a video chat room. Once you start a hangout, people in your social circle receive a notification saying that you are officially hanging out, and if they would like to hang out, they can go ahead and hang out.
With Hangouts, Google+ is now competing to some extent with Skype, now a Microsoft product.
For me personally, getting back to that "Is this enough?" question, I don't find this feature all that appealing, at least for day-to-day leisure communication. But that's because I don't video chat much, and a lot of people do. I think this was a very smart, forward-looking move on Google's part to include it, and it's a strong differentiator right now.
Sparks
Sparks is essentially a personalized news/information feed of stuff you like. You add your interests, and Sparks will feed back articles and videos that are related to those interests.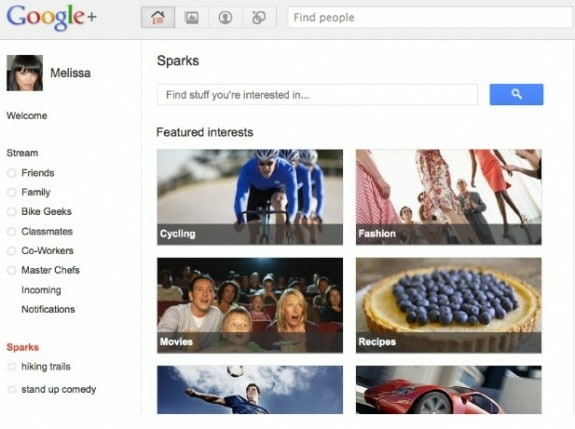 Sparks is automated and algorithmic, and it relies on information from other Google products, such as Google Search.
In and of itself, I don't see anything crazy unique about Sparks, but as a feature in consideration of the tool as a whole, it's a great feature to have and will improve stickiness.
Huddles
Huddles is a non-SMS group chat application for mobile devices. The benefit is that it's NOT SMS. So rather than having to text 5 different people to see where they all want to eat, everyone jumps into the same Huddle and fights over a restaurant in one convenient, efficient location.
There are other apps out there that do this, like GroupMe, but again, it's the fact that this is integrated into a more holistic tool that makes it nice.
Stream
Just like with Facebook, Google+ users post information to a Stream, similar to Facebook's News Feed. What I like about Google+ is that you can easily make messages public for the whole world to see, which is where the Twitter aspect comes in.
Overall
Overall, there are still a lot of kinks to work out, and right now Google's only opening up Google+ to a select group of people. I see a lot of things that still need work, or things that haven't yet been incorporated into Google+, such as Hangouts for mobile, but I think a lot of that will get worked out or added soon.
The biggest downside I see with Google+ is the account and profile issues. You have to have a Google Profile to sign up. Having a profile isn't necessarily the problem—it's having multiple Google Accounts associated with multiple Google services, such as a personal and work Gmail account. When a user has more than one account, it becomes a challenge to get through the setup process and then pull in and consolidate groups of contacts.
So, back to my question. Is it enough? Does Google+ have what it takes to generate a substantial user base, or will it die on the vine like so many other Google products?
Only time will tell, I guess. Most of us don't have time to significantly contribute to several social profiles, especially if there's no real distinction. But personally, I plan to give it a shot and see if and how it fits into my lifestyle—whether it's for work or leisure.
You can check out the interactive tour of Google+ here.
Let us know what you think? Do you plan to try Google+?