Oneupweb : 9 AdWords Ad "Fails"
It's been a while since I've seen any commentary on funny AdWords ads. While searching the web and feeling a bit nostalgic, I stumbled across a forum thread from 2008 that mentioned several awkward AdWords ads from the past. I decided that I could use a laugh today and conducted several searches of my own to see if I could trigger anything ridiculous today, in 2011.
I posted nine of my favorite results below:
I don't generally trust online trash and junk vendors; I usually prefer to buy trash locally:

I think that most people prefer making kids from scratch, but with the breakneck pace of life today, who has time?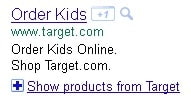 It's all about marketing. Good kids can be expensive and time consuming, so set your expectations low and make it easy on your pocketbook. Combine an evil kid with used diapers and save hundreds of dollars per year:

And remember, most evil kids eventually become the burden of the state, leaving your retirement years hassle free.
I guess not all evil children end up in the stony lonesome. Some embark into very lucrative and adventurous careers, which are legitimized by the bizarre marketing campaigns:

I love truth in advertising:

On a serious note, are your PPC advertisements saying the right thing about your business?
Are your ads relevant and visible to your target audience? Maintaining a strong and intelligent digital marketing strategy should be a priority for every business, and is essential to driving success. Need help or advice on where to start? No worries, a digital marketing firm, like Oneupweb, will be happy to get you pointed in the right direction.