Oneupweb : Zombies Defined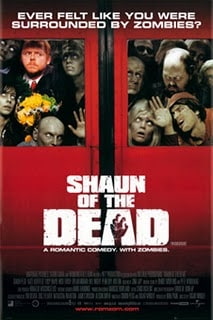 I am a fan of zombies.
I love nothing more (on a rainy, stormy, snowy night; beautiful days are NOT for movie watching!) than to kick back and watch the undead run amuck throughout the countryside, cityscape or small town America.
As a lover of the (dare I say) George Romero owned genre (dude's a genius!), I am often the go-to for info on the best zombie movies no one has ever seen. My usual suggestions include: Ahh! Zombies!, Shaun of the Dead, Dead Snow, Walking Dead (yeah, yeah, that's a TV show, but it's BRILLIANT!) and Mr. Romero's original masterpiece; Night of the Living Dead.
While my movie loving goes far beyond the Zombie Movie genre, I hold a special place in my heart for those mindless (until they're chewing on YOUR MIND!!) beasts. I sincerely hope that someday I will be faced with the need to put into practice all that I have learned from the Zombie Survival Guide!
How does this have anything to do with Oneupweb and what we do?
Well, as it is the midst of Traverse City's most amazing season (summer), I have been speaking to MANY folks (as Traverse City is a summer destination for around a million people every year, maybe more, who knows?). These meetings happen at bars, the beach, restaurants, my front yard, on the bike path, pretty much anywhere you can think of.
Inevitably, the question "So, what do you do?" enters the conversation. I will tell people that I am a writer and that I am putting that skill to the test at Oneupweb "…a full service digital marketing firm here in Traverse City." People are always fascinated by the "writer" bit. Yeah, I freelance. Yeah, I write for newspapers and magazines. BUT, when I begin to talk about Oneupweb, they're like: "Oh! So it's a sweet corporate job? Something to supplement the writing?" They then go on to talk about this or that and how one's career path determines that person and how I must be pretty smart to have a back-up like Oneupweb.
I stare at them (much like a zombie might) and wonder at their position in life to be making such a frightening statement. A safe job? I have never done anything safe in my life!
I allow them to finish their rambling and then tell them: "Yeah, it's a job within the corporate world. No, it's not a 'back-up.' I actually want to be there and that one position certainly does not define one's existence!"
Two days ago, two things happened. Thing number one was a repeat of the above conversation with a friend's mom. Thing number two was……zombies.
I was the leading bald dude in a seven minute preview of a low-budget (around $1 million) zombie horror flick. I had to be up and driving at 2:30AM for 3 hours. I was a literal zombie upon my arrival, but then they decided that my beautiful face was just too good to hide so they put me in the opening "wake" scene. It was sweet.
On the resulting half asleep drive home, my dreams consisted of zombie awesomeness and the fact that I cannot think of one person here at Oneupweb who is defined by anything. We are, all of us, completely tubular fellows and fell-ets. Sitting here at my desk, half of my screen taken up by client work, the other half with this word doc, no one would suspect that less than 48 hours ago, I was surrounded by zombies, fake guns, morgue props, semi-famous actresses (one was in Mad Men!) and some of the weirdest people I have ever met.
To me, that's the spirit of this place. We come here, pour our passion into our work and then leave to pour our passion into other things, MANY other things. We are fascinating folks here at Oneupweb! The lifestyle here rocks (both at Oneupweb and here in Northern Michigan).
If you ever visit Oneupweb, leave your cricket bat at home, there are no corporate zombies here!