Oneupweb : Oneupweb Wins Stevie American Business Award
It seems like we're always winning awards for this and that, and each honor is always a big deal. However, Oneupweb just received perhaps the most nationally recognized award we've ever earned—The Stevie American Business Award.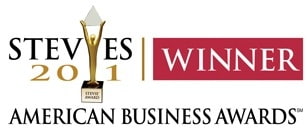 And for the record, I'm not saying that our other awards are meaningless…they're great, every single one is amazing!
Okay, back to the rock star Stevie Award!
Not only did we receive a killer award, but the project we executed, the one that wooed the Stevie judges, was absolutely rewarding in itself. What project am I speaking of?
A banner ad? No.
A PPC campaign? No.
A website design? No.
Our philanthropic documentary, Step & Close received the Stevie! Rather than write a check to help support our local music education, we produced, edited and premiered a 45 minute documentary spotlighting Traverse City West High School Marching Band. All of the funds (DVD sales, t-shirt sales) go directly to the TC West Band Programs. Oh and to make a purchase, please visit StepAndClose.com, where you can also view the official trailer, peruse its list of awards and read testimonials. Not only has our doc efficiently funded our local music programs, but it's also advocated the importance of supporting arts education in school systems worldwide.
During the production of Step & Close our work felt rewarding. Seeing the students watch themselves on the big screen at the Traverse City State Theatre (home to Michael Moore's film festival) was gratifying. And receiving top honors and trophies? Those things make us smile too!
Have any fun/creative fundraising stories? We'd love to hear your innovative acts of philanthropy, so share em' in the comments.