Oneupweb : Rupert Murdoch's Wife Receives Praise
Rupert Murdoch was nearly hit in the face with a shaving cream pie by comedian and activist Jonnie Marbles during testimony before the British Parliament on Tuesday regarding the News International phone hacking scandal.
The video, Rupert Murdoch Attacked With Pie, was uploaded Tuesday.
The star of the video isn't actually the attacker Jonnie Marbles but Murdoch's wife – Wendi Deng – who subsequently smacked Marbles in the head after his attempted pie throwing. She's received an incredible amount of attention for trying to protect her husband. In fact, she has had several Facebook pages and groups created because of the recent event. See the screenshot below of a Facebook search I conducted of her name: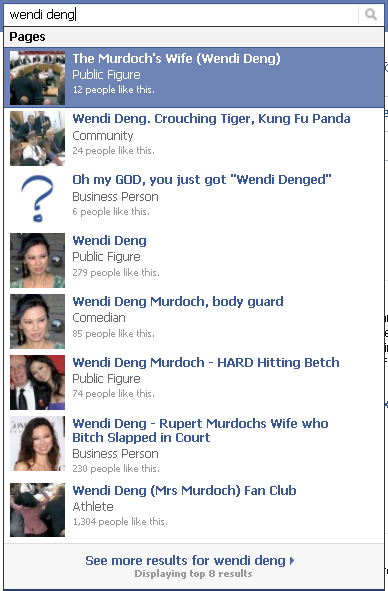 Marbles published an article Wednesday in The Guardian explaining his actions and commenting on Deng's response:
I had intended to unleash a wave of polemic as I made my move. As it turned out, the whole thing was far too weird for me to string two thoughts together, particularly as Murdoch's wife rose from the chair to prevent and avenge her husband's humiliation.
Quite a spectacle in an already bizarre case.
What do you think of Jonnie Marbles and Wendi Deng? Were they justified in their actions? Please leave your thoughts in the comments section below.