Oneupweb : Online Game Cheaponomics
If there is one thing I go crazy about, it's puzzles—any and all kinds. Strangely it turns out there are very few games that I play on the computer or online. Suffice it to say that I am a terrific cheapskate; in fact the only computers games I have ever spent serious money on are the Myst series and the old Hitch-Hiker's Guide to the Galaxy game for Mac. There have always been lots of free, or nearly free, games available to occupy my spare time.
Well, last week one of my Facebook friends hooked me into a new app/game called "Gardens Of Time." Hey, it's free, right? And it involved puzzles in the form of hidden object searches, as well as the ability to create a virtual Historical Garden. As soon as I had played enough to know I liked it, I invited my wife to join the game too, and we set off exploring Time.
As we learned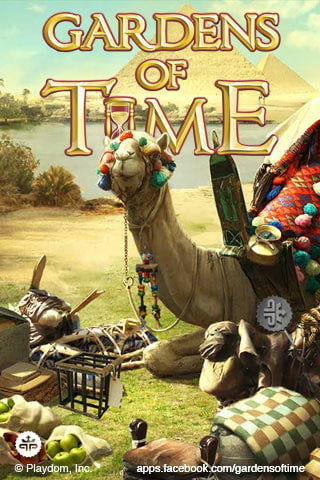 more about the game play, I observed some interesting facts about the economics of this game. Keep in mind that I play very few games online, so maybe this is all obvious and old-hat to you. If you are still curious, read on.
The goals of the game are:
1. Solve puzzles (of course!)
2. Complete "quests" which unlock higher levels of play
3. Create a virtual garden
The social component of the game allows you and your Facebook friends to visit each others gardens and help in the accomplishment of the above goals. One of the ways to interact is to give or exchange gifts, so having friends playing the game helps a lot.
There are plenty of resources of various kinds available to build up the garden, and here is where the economy comes in. There are two kinds of virtual currency, silver coins and gold bars. Silver is used as a reward for most activities and accomplishments, and so it is fairly easily accumulated. Gold is awarded only for advancing a level (and those who aren't cheapskates can buy it with real money). Interestingly, there is no way to convert silver currency into gold, so gold is truly a precious resource in this virtual world. And some of the resources you need or desire are only available in exchange for gold.
Access to the hidden-object search puzzles is also regulated by the amount of energy required for "time travel" and the fact that energy accumulates (up to a modest limit) over time. Early progress in the game is swift, but soon the limited energy stock means you have to wait before continuing the puzzle play. (This is probably a very good thing for those who have a non-virtual life!) So you have a game in which lots of activities and resources are readily available, but desire for a few choice items creates a hunger; for energy and for gold.
So in order to get more continuous play time, and to have more options for playing, I have found just two options for increasing "wealth." First is to get more friends to play. Second is to respond to ads. Hmm … just the things Facebook and the game's creators would most want you to do. So from a marketing perspective, this may be one of the most efficient tools I have seen (keep in mind, I'm in the technology department, not marketing!). In addition to being a cheapskate, I never brag about my friend count, and I'm highly resistant to the average online ad. A game that makes me attend to both at once is something unusual.
Careful with the ads though. I've found an ad promising one gold bar for watching a short video to be a legitimate one, insofar as it delivers as promised with no extra strings. The ones that promise hundreds in gold are scams, however, and will cost you.