Oneupweb : Epic Showdown : Mustafa vs. Fabio
Old Spice is at it again, and although some might say that the showdown in congress concerning the debt ceiling is epic, I say that doesn't compare. So I was confused why President Obama covered the debt ceiling issue yesterday instead of Mustafa vs. Fabio. What's up with that #BO?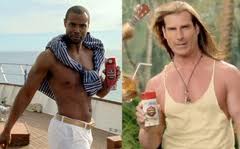 It's the classic young up-and-comer vs. the veteran. While the Old Spice Guy holds the record for the most viral campaign in the history of time and space (look it up, it's true), Fabio has been doing cheesy ads and the occasional romance novel cover (not that I own any or read them often… forever alone) for as long as we can remember.
Mustafa, not to be outdone, responded with the ferocious vernaculous retort that we've come to expect from the chiseled Greek god of a man.
I can't say who will win this epic battle of manly manliness, but I will say I'll be watching. How about you? What's your vote? Let me know in the comments below.