Oneupweb : Breadcrumbs, Cookies and Spiders…Oh My!
A short 3 weeks ago, these words (breadcrumbs, cookies and spiders) had very different meanings to me. As a recent transplant to Traverse City, from the Detroit-Metro area, I had taken the last year and 3 months off to get acclimated to the area, prior to beginning my search for employment. Along with adjusting to a more carefree way of life, I also was adjusting to being a "bonus mom" to 3 awesome kidlets and a new English Lab puppy, Petunia.
My days went from being slammed with meetings, sales appointments and presentations to simply being concerned with the state of the house and planning dinner. My first TC friend, Lisa, has crowned me the "Laundry Queen". I humbly accepted the title.
I spent most of my days glued to my laptop, killing time on the typical sites: Facebook, Twitter and FoxNews.com. I also researched anything I could possibly think of conducting search after search on the most random things. I also became an uber-active participant in the communities on AllRecipes.com and SeriousEats.com. I guess I now consider myself to be a foodie even though the food on my plate can't touch, I strongly feel pizza should be its very own food group and the only fish I eat are Swedish Fish.
I finally decided it was time for me to go back to work, before I drove Brad and the kidlets completely insane with my newly found obsession with all things laundry. I decided to check out Oneupweb to see if they had any job openings; along with having a fantastic building and location (did I mention it's RIGHT ON THE BAY?), I had heard some pretty remarkable things throughout the community.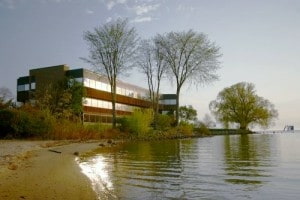 Lo and behold they did! After multiple interviews and my shameless stalking of Anne, the HR Director, I was offered a position! As a PPC Client Success Specialist (a.k.a Project Manager) I now am on the other side of searches, Facebook and Twitter, doing digital marketing!
The days where the only breadcrumbs I considered were Panko, cookies were delicious and spiders were disgusting are gone and have been replaced with, what I lovingly term "geek-speak." Now when I think of breadcrumbs, I think how they are a series of hyperlinks displayed at the top of a web page, indicating the page's position in the overall structure of the site, cookies are a piece of data downloaded to a computer by a website (think this Big Brother not this Big Brother) and spiders, well, um, the fact that spiders scare me trumps any other definition.
Today starts week 3 for me here, and I have to tell you what an amazing company it is. I work with some of the most frighteningly creative, brilliant and focused people around. I still can't believe I get paid to come to work here. And the fact that they continue to let little old me come back every day, well, that's a bonus!
I highly recommend checking out Oneupweb, and, heck, while you're at it, check out the Traverse City Lip Dub! Enjoy!