Oneupweb : YouTube Testing Out New Look : Cosmic Panda
YouTube has been testing out a new look and design for its interface and they are calling the project Cosmic Panda. Right now it's all opt-in, so as far as anyone knows this is nothing permanent.

YouTube's Help Center writes:
"The features of the experiment are actively being worked on and honed; the experiment is subject to change, contingent on your user feedback. You can submit feedback by opting in to the experiment, and clicking the blue tab labeled Feedback on the left side of any page."
So let's take a look at some of the features in the new design.
1. Templates:
Now you can select between several pre-made templates when designing your YouTube channel:

2. Branding:
To begin branding your channel select "Branding" at the top of your channel. Here you will be allowed to select your avatar and background image for your channel. Also located within this section will be your info and settings.
3. Featured Modules:
Depending on your chosen template, you will be able to choose modules to add to your channel.

These modules can include a video, playlist or channel.
4. The Sidebar:
The sidebar is where you can add information about your brand or channel.
In the sidebar on the right hand side of your channel, you can edit and view descriptive information about your channel.
Click Edit next to the title of your channel and fill in the desired fields visible below
Click the checkboxes to show information on your channel (or unselect them to hide information)
You can also add links to your Facebook and Twitter accounts that will display under your channel description
Click Add to add the information to your channel description
Under this sidebar you have the option to add another module to your channel. You can add "Other Playlists" or you have the option to add "Other Channel." This can be helpful if you have several YouTube channels and want to interlink them.
5. Community:
Community is also one of your most important tabs on YouTube.
The community tab displays channel comments, recent activity, bulletins and subscribers.  This is where your community can communicate with you as a brand and each other.
6. The Watch Page:
As you may have noticed the new player is quite a bit different from the old one. Not only is the player now black with a red progress bar, but provides users with a more seamless transition while watching videos. When you click on a user's channel page you will navigate to the channel, however, your video will continue playing on the top left (only available in Google's Chrome browser).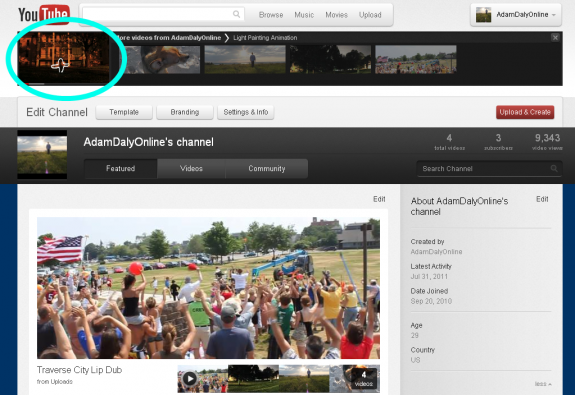 So give Cosmic Panda a shot by clicking here: Cosmic Panda.  YouTube has also created a Cosmic Pand FAQ page for frequently asked questions.