Oneupweb : I Wanna Rock!
As my family was helping my grandparents move into their new home, they decided to downsize some of the things they didn't want anymore. My grandpa was an avid Petoskey stone collector and hobbyist jeweler back in his day, and I was sad to see him sell off is 1,000 + pound collection of Petoskey stones to a local collector/reseller. What I didn't know is that he saved all of his lapidary equipment for me.
The word lapidary means "concerned with stones" and refers to an artisan who cuts, polishes and engraves precious stones. Grandpa gave me all of his water cooled diamond edge cutting saws and grinding/polishing wheels, so that I could try my hand at this exciting hobby. The thing that I was missing, that I thought could help me create future pieces of art, was a high speed lapidary drill.
A Google search for "lapidary equipment" turned up many companies, including Kingsley North Inc., right here in our home state, in Norway, MI.  However, it was a company called Inland Lapidary that I noticed fairly high up in the search results, and also in the #1 position in the PPC ads. While Kingsley North Inc. was number one in the natural results and captured my eyes first, it was that one-two punch from Inland Lapidary that provided me with the extra info and credibility from the PPC ad, and guided my mouse to click on the link to their page.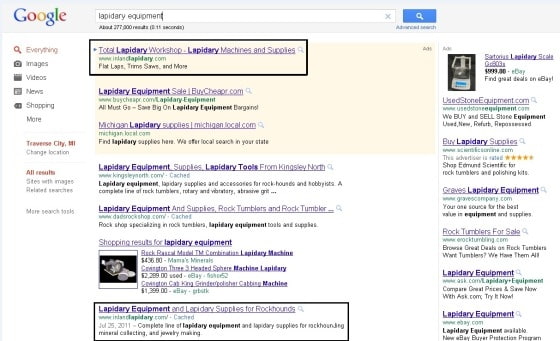 Not only did Inland Lapidary do their website and brand justice by proving to the search engines that they have relevant products or services for the given keyword search, they also went the extra mile of bidding on the unique keyword phrases, providing another outlet where their potential customers can find them.
When I am in my research and buying mode, I pay a little more attention to the paid advertisements, looking for those valuable buyer incentives, such as "free shipping", and any specific product references in the description tags that lets me know that the company has what I'm looking for.
So many online companies tend to only invest in one channel or the other, and often times, neither. They think that if they spend all of their online marketing budget in PPC, they will have high rankings in the search engines, thus they don't need SEO. And many companies are just the opposite with a well designed website and SEO fundamentals in place showing relevancy to the search engines and returning high positions in the search results, yet they don't see the need to also spend on the paid advertising.
Don't let your online business be that diamond in the rough and make your potential customers dig deep to find you. Your products and services should be gleaming on the surface making it easy for the masses to make their purchase. They are itching to buy the products or services they need, and it might as well be from you.
Speaking of a diamond in the rough, a hidden treasure in that box of lapidary gear from my grandpa revealed a large raw chunk of Fordite. When I asked my Grandpa about it, he described it as "that chunk of paint" that somebody gave him a long time ago. If you haven't heard about the unique history and popularity of this Fordite, here is a good piece to learn about it.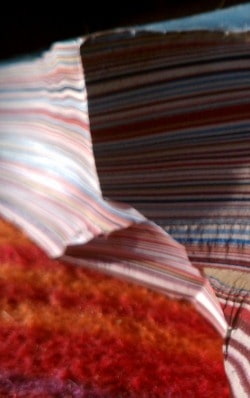 My Fordite specimen weighs just over 5 pounds and contains some amazing colors. When you cut into it, it reveals such beautiful patterns that look a lot like a cross section of a concrete Superball. This Fordite can be cut, shaped and polished into wonderful pieces of art. It seems like much of this material is already spoken for or non-existent, as the major automobile plants haven't used this method of painting since the early to mid 1970s, and all of the available raw stock is either in the hands of jewelers, or buried deep in landfills.
A Google search for Fordite just returns a lot of high-end jewelry for sale, or small little polished down pieces already the size of jewelry, but nothing about purchasing the raw stock to create your own masterpieces. I've already been offered $500 for this chunk, but with its personal history, the nostalgia, and its potential as future jewelry, I think I'll hold on to it and see what I can do with it.
Once I make my purchase of that high speed lapidary drill and some replacement diamond saw blades, I will see what lies beneath the layers of this chunk of paint. Are there any lapidary artists out there that have experience drilling through Fordite and/or Petoskey stones. Maybe it's just a regional Michigan thing?