Oneupweb : Facebook Interest Targeting Updates
Anyone that has been using the Facebook advertising platform for more than a couple of months would probably agree that the channel seems to be a work in progress. In my opinion, the main draw of the Facebook advertising platform has always been its robust targeting options.
Facebook users supply a staggering amount of personal information; this provides marketers with a collection of fairly accurate demographics in which to target. By combining different demographic data like gender, age, education level, relationship status, interests and more, a savvy marketer can create a campaign targeted to your ideal prospects. One of the most unique facets of Facebook PPC is the ability to target users based upon interests.
Targeting user interest used to be a somewhat arduous process. Marketers were limited to targeting very precise interests that were contained within a profile. This precise targeting (though very relevant to audience interest) occasionally made it difficult to create a significant audience size worth marketing to.
Recently, Facebook expanded the ways to target user interests into three categories (which you can read about here):
1.)    Precise Interest Targeting – This is the traditional way that user interests have been targeted. This method allows marketers to target specific likes and interests shared within Facebook user profiles. Facebook provides the following example:

"If you belong to a group called 'Lady Gaga Fans,' this can be captured with the precise interest 'Lady Gaga Fans'. Other things you've shared will be connected to other targetable interests."
2.)    Topic Targeting – Targeting by topic will join several overlapping "precise" interests together. To create a "Topic" target you add the somewhat Twitteresque hashtag to the beginning of the interest target. This is done in the Precise Interest text box. Facebook gives the following example:

"The '#Lady Gaga' topic will capture people with related interests such as 'Lady Gaga', 'Lady Gaga Fans' and "Lady Gaga Music'." Topics are available in the Precise Interests selection box.
3.)    Broad Category Targeting – Broad categories pair interests with other shared profile content to create high-level target groups. Facebook states that: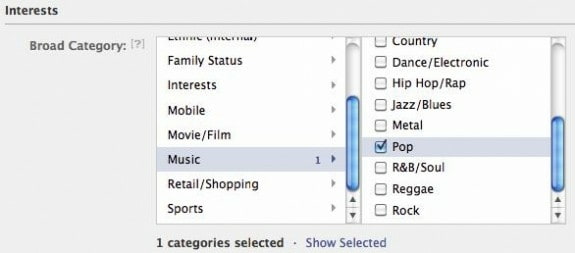 "With Broad Category targeting, interests like 'Lady Gaga' would be combined with other details into a category for people who like 'Pop' music or even 'Music' more generally."
Facebook also states that,
"You might be interested in Broad Category targeting if you want your message to easily reach a range of people with shared characteristics, without managing very specific interests. Broad Category targeting also includes groups that can't be selected through other targeting features, such as parents and mobile users."
It should also be noted that the "Broad Category" targeting can't be used in tandem with "Precise" or "Topic" targeting, while the "Precise" and "Topic" targeting features can be used together.
Of course, if the constant barrage of Facebook PPC changes is making your head spin, you can contact an expert like Oneupweb. Growing businesses is what we do, and we would love to help you reach your goals. And please share your thoughts about this latest change through the comments below. We'd love to hear your opinion!