Oneupweb : TechCrunch Facebook Comments Make Jeremy Call His Mom
A hilarious drawback to installing Facebook Comments on your blog was showcased on TechCrunch Tuesday when Jeremy Krumsick used his Facebook account to leave a comment on the TechCrunch post titled: German Court Suspends Galaxy Tab Injunction In The Apple-Samsung Case. Below is a screenshot of the interaction between Jeremy and his mom: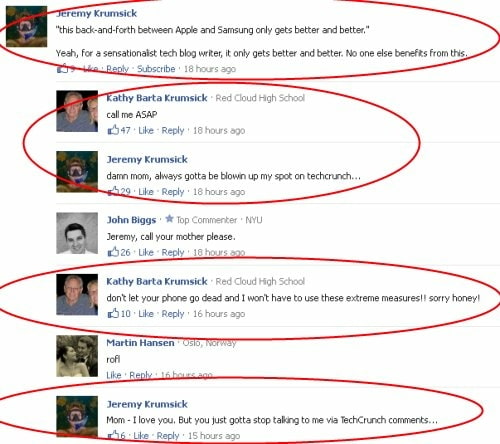 As TechCrunch's MG Siegler noted, many bloggers and websites implemented Facebook Comments onto their websites so as to deter trolls and spammers from submitting crummy comments. However, as several TechCrunch readers found out, there can be a drawback to this feature. Siegler writes:
Because the comments get pushed back to commenters' Facebook Walls, anyone is free to respond from there, off-topic or not.
So Jeremy's mom probably saw his TechCrunch comment in her News Feed and made her wonderful mom comment – "call me ASAP."
This is great because it seems many Facebook users (and perhaps TechCrunch readers) can relate to Jeremy's Facebook "mom situation." I could certainly see my mother doing something very similar. Could you?
Up Next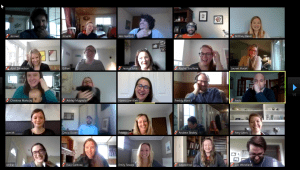 Building Remote Company Culture We've been working from home for … approximately 3,781 days. Just kidding. Obviously, our marketing agency is blessed to be able to continue working remotely, providing services to our clients and staying healthy all the while. Even before 2020 threw us a curveball, we had a flexible work-from-home policy and a...