Oneupweb: Taking Your SEO Project to the Moon—and Knowing Where the Moon Is
Here at Oneupweb, our clients not only get access to the wealth of knowledge and talent housed in each one of the players sitting on our SEO, PPC, Social a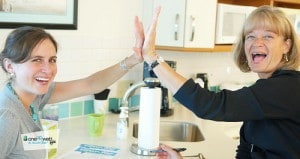 nd Design teams, but they get to reap the benefits of how much time we invest each week into staying up-to-date with the industry and its trends. With the world of Search looking totally different than it did even just one year ago, it's essential that your digital marketing agency invests in staying on-top of changes in the Search world.
See, as a member of the SEO team at Oneupweb, I spend the first part of every morning reading up on industry news, seeing what has happened in the last 24 hours and discussing interesting search trends and insights with my fellow SEO teammates. We engage in weekly training sessions, ensuring we're fully aware of what's going on in the Search landscape. From learning about and adapting to the ever-changing pieces of the Google Algorithm to doing in-depth case studies of current clients, the SEO team spends time each week bringing all of our minds together to either find a collective solution or discuss a particular issue.
This week, we discussed a hot topic in the SEO world: positioning. For those who aren't familiar with what exactly that means, it's the thought that "successful" SEO means seeing top positions for a particular keyword. While I agree that a good SEO campaign will result in better positions for huge range of keywords, determining the success of an SEO project purely based on how well a particular set of keywords position is just not accurate (apparently others agree).
What happens if you optimize your site for "best Chicago-style pizza," only to find that someone searching down the street sees you in the #1 position, but the person looking for the "best Chicago-style pizza" while standing on a street in Chicago doesn't see you anywhere on the first page of results? This particular scenario could be due to Google (and other search engines) focusing on localizing search results over the last couple years– if you haven't noticed, search engines now know where you're sitting when you search, they take mobile searches into consideration, and overall, they're doing all they possibly can to serve you the most relevant search results based on your past search behavior (some say the filter bubble is taking over).
All this being said, there are a variety of factors that should be used to measure the success of an SEO project, including conversions, sales, unique visits, and yes, a general look at positions (because a successful SEO campaign will show you an increase in all of these).
If you're in search of a digital marketing agency that can get you results, call us. We know the industry. We adapt as it changes. And, we use our insight to bring success to our clients.