Oneupweb : Join Us for My First Digital Roadshow Event!
I'm excited to announce that I'll be presenting my first Digital Roadshow webinar with Lisa Wehr on Thursday, September 22, 2011 at 2 pm EST. I'm even more jazzed about this month's topic: "Exploring 2011's Most Successful Digital Marketing Campaigns"! During this free live session, Lisa and I will uncover the strategies used in three inspiring 2011 digital campaigns and show you how they successfully combine pay per click, social media, mobile as well as a few traditional tactics to deliver mind-blowing results. Here's the best part, these digital strategies can be applied to virtually any business or industry. All you have to do is register, then sit back, relax and soak it all in. After all it's time to start your 2012 planning and this event will give you the perfect foundation to get started.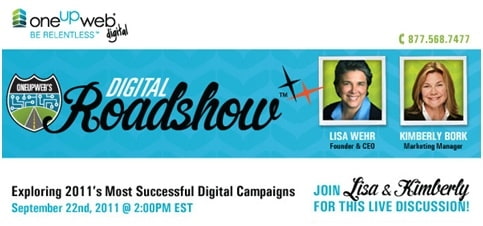 As a new addition to the Oneupweb team (May 2011), I'm going to share a little about who I am and where I came from. I love all aspects of marketing and helping others succeed! With over 20 years of experience in the marketing and media communications industry, I've worked with aspiring entrepreneurs, small business owners as well as large corporations such as Adidas, LPGA, SEKO Logistics, Thermo Fisher Scientific and NASCAR. I've founded three companies since graduating from Daytona Beach Community College (AKA Daytona State College). Interesting side note, Lisa Wehr is also an alumnus of this award-winning visual arts school. And now I'm proud to call Oneupweb my professional home where I'm constantly amazed and motivated by the brilliant minds that surround me on a daily basis.
Okay, enough about me, here's another bit of history for you…do you know how the Digital Roadshow came about? If not, here's the scoop:
The Digital Roadshow stemmed from a live 2009 RV tour "One for the Road" where seven relentless Oneupweb employees, including CEO Lisa Wehr, hopped in "Pearl", a 1970's motor home and embarked on a five day tour of Michigan. Making stops in Ann Arbor, Lansing, Grand Rapids and Traverse City, Oneupweb set up shop in local parks and offered their online marketing consultation services and advice for free to any Michigan business that stopped by. Why you ask? Simply because it's what Oneupweb could do to help other Michigan businesses continue to survive and thrive in a struggling economy.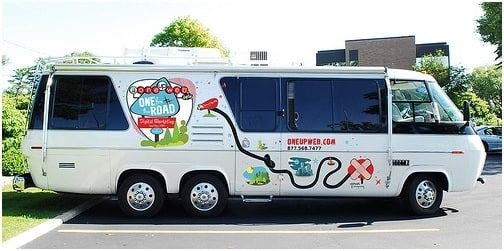 Today the Digital Roadshow is a free monthly webinar series that has hosted thousands of registrants since 2009. Each webinar is an hour-long session where Lisa and her talented staff members answer live questions, offer tips and advice for making the most of the digital marketing medium. Pretty cool, eh!