Oneupweb Reviews: Facebook Gives Friend Lists An Overhaul
Facebook is launching a revised and updated version of its Friends Lists. Today, let's take a look and see what all the fuss is about. Facebook's Blake Ross announced:
"Lists have existed for several years, but you've told us how time-consuming it is to organize lists for different parts of your life and keep them up to date."
Now more than ever Friend Lists are easier to use. The three big changes are lists below:
Smart Lists:
These lists will be created automatically, and be updated automatically, based on info your friends have in common with you, as well as other information like your work, school, family and city. The following lists will be created for you automatically: Work, School, Family, and City.
Close Friends and Acquaintances Lists:
You will now have a close friends list created for you as well as people you aren't close with.
Close Friends list-
Add your best friends to your Close Friends list and you'll see everything they post in News Feed. You can even jump straight to a view of your News Feed that only shows their photos and news. You can also receive notifications when they post updates, so you don't miss anything important.
Acquaintances list-
Add friends like old classmates or business contacts to your Acquaintances list and you'll see less of them in your News Feed. Facebook will still show you important things they post — like when they get married or move to a new city — so you don't lose touch completely.
Better Suggestions:
You can add the right friends to your list without a lot of effort. Below is a screen shot of the new way friend lists are presented.

Now, instead of having to go to your list group (to post only to those apart of that group) you can simple select your list from the drop down below: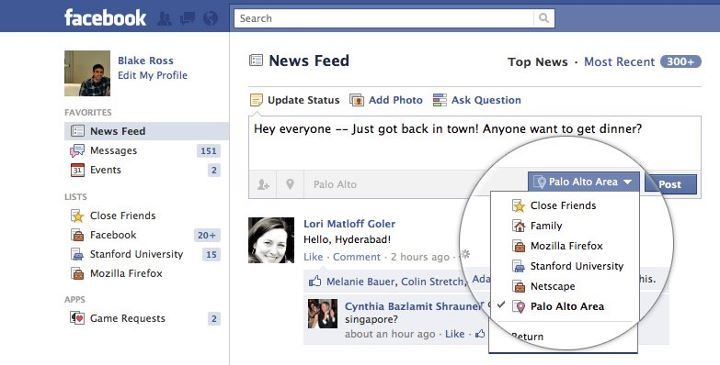 So there you have it. I have used Lists for a long time now and advocate their use. However, many aren't even aware of their existence. What do you think? Are you more likely to use Lists now that they are easier to use?