Oneupweb : NFL Live Results Win One for the Home-Row Keys
Fall marks that special time when men hang-out with their significant others reboot their fantasy leagues, gain twenty pounds, and spend Sundays secluded in dark corners with other football fans.
It's true: football fans have an unspoken bond. But even football fans fall into two polarizing categories—those that follow scores and stats from their smartphone, and those that know if they bought one they'd drop it in the toilet while cheering for their team. I fall into the later group. As someone that's already online more than I sleep, I'm avoiding the smartphone revolution for the time being—banishing myself to a horrid existence in which I need to open my laptop to see injury updates on Matt Stafford.
Thankfully, Google and ESPN recently partnered to include live scores and states in search results. Major League Baseball was the first sport to make this leap earlier in the year, but honestly—baseball season is practically over now that the Detroit Tigers are preordained to win the World Series. We need football and only football.
With Google's new features, we get it. Search queries like 'nfl espn' now return a list of 6-7 games, with a drop-down option that expands to show all recent games and those kicking-off later. Along with listings for each game, the search results include links to articles recapping the games and box scores for tracking your fantasy players.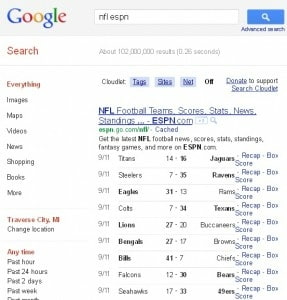 Now more than ever, it's easier to find-out whether Calvin Johnson gained enough yards against the Chicago Bears in my fantasy league. And at the same-time, I can reach the crushing realization that I have the Bears defense in my REAL MONEY league, and my opponent just beat me with a Matt Stafford touchdown toss…
The next time my friends come over for venison chili and PBR, I can check scores and stats from my laptop while they fumble with those apps. My hands are far too muscular to hit those puny touchscreen icons anyway. Google's new NFL search results allow me to become the informed fantasy owner I've always aspired to become. The downside—I'll need to find new excuses once my team is eliminated again and I'm verbally berated on the message boards.
Lost in the pageantry that is American tackle football—Google has been rolling-out updates to their search engine results pages quite regularly. Paying attention to these changes, like Google's recent update to site-links, makes it critical that digital marketing companies can adapt to the changing landscape of search engines features and their impact on search engine optimization and pay per click advertising.