Oneupweb : A Local Search Story
Last week, I entered the 21st century. By that I mean I travelled to a far away land with no map, no atlas, and no printed-off directions from MapQuest or Google Maps.
My guides: A $50 smartphone and a laptop.
My destination: Our nation's capital, Washington, DC.
The 765 mile smartphone-navigated journey from Traverse City, Michigan to Washington, DC went relatively smoothly, with the exception of non-stop rain and a strange detour through some sleepy Pennsylvania towns. In fact, our mobile guide took us right to the front door of the hotel without a hitch, and then led us around town on foot as we toured the monuments on the first day. Before we knew it, it was way past dinnertime.
Time to eat.
After a long day on our feet, we wanted food—and we wanted it now. Without a specific cuisine in mind, I brought out the laptop and searched [restaurants in dc], clicked on the Google Places map and zeroed in on our neighborhood.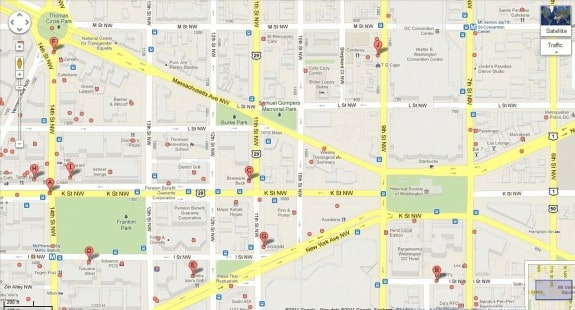 From here I began the process of clicking on balloons closest to our hotel and working my way outward. The problem, however, was that it was late and we knew some of these restaurants wouldn't be open. I was tired and feeling lazy, so I didn't feel like calling. I just wanted to see some hours of operation, but hardly anybody had them on their Place page; visiting everyone's site to try to find them became too tedious. In fact, very few pages were even owner-verified, let alone optimized for search.
It was time to refine my search.
After searching different variations of "late night" and "open late," my results only got more scattered and far away. I quickly realized that these modifiers are a terrible way to search local places.
Feeling lazier. No longer feel like leaving the hotel.
Dedicated to sampling a local establishment, a search for [pizza delivery] revealed somewhat nearby pizza joints that delivered, but once again few had hours of operation and some didn't even have a phone number.
I'm over it.
Lesson Learned
Like any other internet user, I wanted my answers immediately. I was tired, my stomach was calling and I wasn't about to waste any more time. For local businesses—in this case, restaurants—local search optimization is essential. Even if I had found hours of operation, I would have wanted to learn a little bit about the restaurant before I went with reviews, images and cuisine category as well as price and menu information. Google Places is an excellent form of free advertising, but you have to take the time to build your presence, optimize your Place page and convert users.
The result? Keeping in line with the "I'm on vacation, I'm lazy, deal with it" attitude that I began my quest with, I took the easiest way out I could. I abandoned my search for DC-esque pizza and went to Dominos.com. Sorry local guys, but you have to admit that pizza tracker is pretty cool.