Oneupweb : Digital Marketers Remember Doritos Inventor Arch West
Steve Jobs is not the only business mogul to die recently. Steve Jobs died last week. It was huge news in the world at large. We at Oneupweb talked a lot about what he meant to us and where we think Apple will go next. Steve Jobs powered down for the last time. His impact will be felt for generations to come. Thank you Mr. Jobs for reintroducing magic into the world. Now I want to take a minute and also pay homage to another business titan who recently passed on.
In late September the world lost Doritos inventor Arch West. Arch was 97 years old. We thank you, Arch. Doritos have been an American favorite since their introduction in 1966. Digital marketers like me have gobbled bags and bags of Doritos on lunch and during late nights working on projects.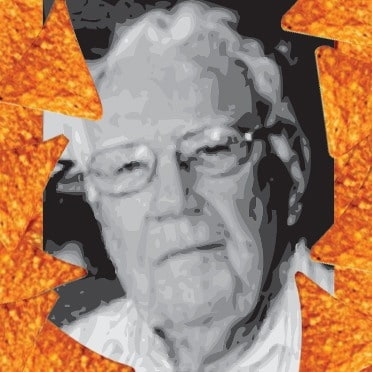 You can grab a bag of Doritos from a vending machine for a buck or less. Hey that's cheaper than most iTunes purchases.
Doritos have had some serious staying power. Us Generation X'ers remember when Cool Ranch Doritos were introduced. And you know what? They stuck, unlike New Coke.
Doritos accounted for more than a billion dollars in annual sales many times in the last couple decades. That's more than a third of Frito Lays sales. We don't even spend a billion dollars on Presidential elections. Are Americans more interested in Doritos than we are in our Presidents?
Arch West you were ahead of your time and recognized early on how popular this snack would be. The folks at Frito Lay and Doritos stay ahead of the curve in digital marketing. This is one brand I have consistently seen already pushing the Super Bowl hype in the online marketing space. They have a current promo/contest called Crash the Super Bowl requesting TV commercial submissions for the big game. You can win a million bucks. I appreciate their cross channel approach to online marketing. They have nice integration in Facebook, Twitter and their .com. They are also hooking up with The Lonely Island—kings of the digital short.
Join me in celebrating Arch West accomplishments by munching a bag of Doritos. Don't worry you can clean the cheese powder off your keyboard, iPad screen, Kindle or whichever devise you prefer.
If your company seeks an integrated online marketing campaign like the one Doritos has going please give us a call at Oneupweb. We'd be happy to help!