Oneupweb : A Pleasant Peninsula
It can be hard to find a topic for blogging when things are going well. After all, it's pretty easy to complain about things. One thing for sure, no one in Michigan's Grand Traverse Bay area—Oneupweb's own backyard—can complain about the October weather so far.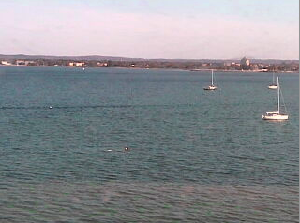 This has been good for me, as my doctor recently 'encouraged' me to add some activity to my lifestyle. I've since gotten into the habit of walking or running with my dog around my neighborhood. Good to have one less excuse when forming a new habit! Only a few days in the last several weeks have I needed even a jacket, due to the unusually mild weather. And with the fall colors beginning to kick in, there is beauty everywhere you look.
I have a son who just joined marching band in his first year of high school. His band, Traverse City Central, performed last night at the Thirlby Field Marching Band Exhibition, hosted by intra-city rival Traverse City West at their shared stadium. Oh yes, West is the (hmmph) band featured in the Oneupweb production, Step & Close. (You knew that already, right?) Anyway it was a great evening watching many area high school bands show off their excellence. Even though I committed a Northern Michigan sin by leaving my jacket at home to attend an outdoor event on an October evening—the weather absolved me this time.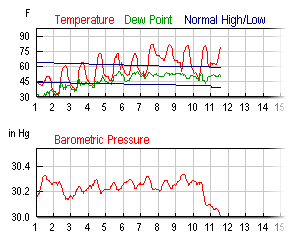 The other great thing about having the best of Northern Michigan weather hang on into fall is to provide a nice welcome to several new employees who moved to the area to join us. The expected wintry weather will arrive in its time, but we don't want it to dump until they have a chance to get settled!
In the meantime, life is good in Northern Michigan.