Oneupweb : Social + SEO = A New Realm of Site Reach Possibilities
"Your consumers are all on social networks—so, you should be, too." – This piece of advice is totally accurate and couldn't be a whole lot more vague.
Most organizations are aware of the power and influence that social media has on business and the reach of a site, but how can you implement a social media plan that helps with your SEO outreach? Most simply, the two should go hand-in-hand. And, quite honestly, if you're using social media and not taking SEO implications into consideration, you're wasting a perfectly good opportunity.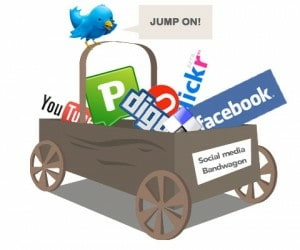 Major search engines are now using social signals to rank your site, meaning the more times your links and content are shared, the better chance you have of seeing an increase in your site's rankings. Danny Sullivan did an interesting interview with Google and Bing in 2010 to discuss specific social signals they use to do this. With a little trial and error, and a lot of research, many social elements have been said to come into play when considering putting weight and relevancy on your site.
Some of these questions are helpful to ask when you're analyzing the influence of your social media campaign (and don't fool yourself—the engines are asking themselves the same questions about your social campaign):
Are you seeing a consistent increase in followers/friends?
How often are your followers/friends engaging and interacting with your social medium?
Are your tweets/posts consistent and relevant to your niche?
Along with asking these questions, start using the tools social mediums are providing to brands. Facebook, Twitter, and the other major social mediums, are integrating more and more tools to help you gauge how your social efforts are going (this was clearly evident in Facebook's recent launch of the "People Talking About" statistic for brands).
The influence that social media has on search engine rankings is only going to grow. If you find this topic interesting but realize it's a little out of your league, contact the digital marketing professionals at Oneupweb. We can help you come up with a powerful social campaign that not only gets your brand name out there, but considers your SEO campaign and increases its reach, as well.