Oneupweb : The Rise of the Entrepreneur and Micro-business
Over the past few years micro-businesses have been cropping up everywhere and the entrepreneurial spirit has been thriving. Why? Some might guess it's because unemployment has been at an all time high and our economy has been slow to dig out of a recession. As a result, the unemployed are beginning to create new opportunities for themselves.
So what exactly is the definition of a "micro-business"? A micro-business is a company that employs less than five people with annual sales of less than $35K. Many might not take these businesses seriously when it comes to our state's economic development, but in reality, these businesses provide employment, income and opportunity for future growth.
Here are just a few of the micro-businesses that can be found in our region:
The Part-Time Business
The business started out of necessity. This could be any type of work that supplements full-time employment such as cleaning, design, or consulting services, etc.
The Virtual Assistant
This micro-business started on a very small scale with very low financial investment. The virtual assistant offers professional services such as copy writing, design, marketing, etc. to companies located elsewhere. The flexibility of the virtual workplace allows people to live where they want and eliminates the need to commute.
Value-added Food Producers
The northern Michigan area is filled with farms producing specialty crops such as hops, grapes, tomatoes, cherries, specialty wines and brews. This sector includes agricultural commodities that are transformed into products such as beer, wine, preserves, salsas, dried fruit, etc.
So what does Oneupweb and micro-businesses have in common? Lisa herself started as a micro-business over 15 years ago and has grown to employ 50 full-time employees. Oneupweb has been named a Top 20 Search Marketing Agency by Advertising Age for five consecutive years, and CEO Lisa Wehr is recognized as an Ernst & Young Entrepreneur of the Year.  This proves that one should never underestimate the power of a micro-business and an entrepreneur with the passion to succeed.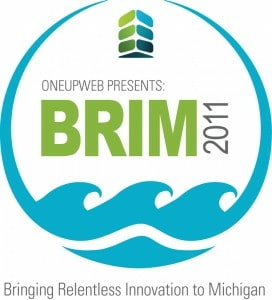 Lisa is a firm believer in helping entrepreneurs and businesses flourish, so this year Oneupweb is hosting BRIM 2011 (Bringing Relentless Innovation to Michigan) on November 10, 2011. BRIM is a free thought leadership event designed to deliver inspiration, education and networking to Michigan's businesses and entrepreneurs. The half-day agenda features three panel discussions delivered by Michigan business experts, a cocktail social and investor pitch session. This all will take place right on the shores of Grand Traverse Bay at the Oneupweb headquarters. Seating is limited so be sure to register before October 24, 2011!