Oneupweb Reviews: One Last Call's Shoe Strings – Social Media Case Study
What's the Skinny?
Social Media has become a hotly integrated item for a company or project's marketing campaign. It's a platform that can both save your budget and also go viral with an insane amount of return as compared to TV ads, radio spots and/or outdoor advertising.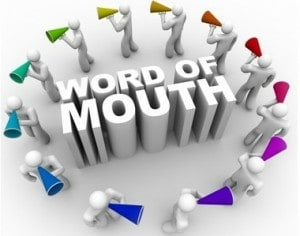 Why is that?
It's what is known in the oldest of traditional forms of advertisement as word-of-mouth. It is the Viral Virtuoso. Recommendations from personal connections or opinions shared by consumers online are the most trusted forms of advertising.
"Ninety percent or consumers surveyed noted that they trust recommendations from people they know, while 70 percent trusted consumer opinions posted online." (Nielsen, 2009)
Those are some pretty huge percentages and worth the argument that any and all brands need to get with the flow and master (at best) the networks of Social Media. And, that's obviously the skinny on that!
Tie My Shoestrings, Please
Even a short film out of Detroit discovered social media's benefits despite a shoestring budget [2010/11].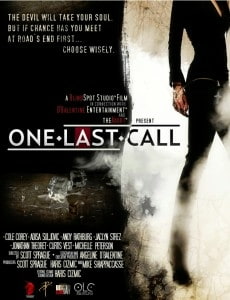 One Last Call, a short film created for a master's capstone project, was implemented on a shoestring budget of $5,000. By the end of the finished product it reached an appraised worth of close to $35,000. It was a production that was, of course, about the filmmaking, but it was also about the business side, a side that takes place behind the scenes. This is something most non-industry pros have no idea about – that not so glitzy and glammed up side. Things like negotiations and contracts, location planning, city permits, sponsorships, music scores and studios, creating merchandise and so on comprise this hidden world. On this project, agitating social media fan base prior to the film entering production played a role in the invisible side as well.
In fact, social media was the success point of One Last Call. Its utilization of social media before heading into filming was part of the reason the project received a total five (5) sponsorships prior to finishing principle filming. In turn, giving the project the ability to complete at that $35,000 level. The film brought on such national sponsors as Coca Cola Creative and NVIDIA.
Some Social Sizzling Stats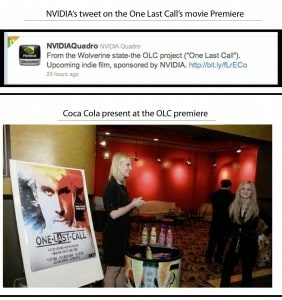 In the first 30 days of launching the project's "OLC Short Film Project" Facebook fan page, the film garnered a fan base of close to 900. On YouTube, the trailer received close to 1,000 views and the music video topped 500. On Twitter, NVIDIA and Channel 7 news WXYZ (the top in Detroit) tweeted more than once about the project. Upon announcement of the premiere via the social network, Coca Cola Creative contacted the project letting them know they wanted still involved. The national company volunteered a booth at the event giving out free Fuse drinks to a sold out crowd at the Main Art Theater in Royal Oak, Michigan.
Now That We've Tied My Shoe Laces, Let's Play!

Another successful factor that played into this project was the encouragement of interaction from its fans on Facebook. Part of the strategy for the page was to go beyond simple conversation surrounding the project and post only things pertaining to One Last Call. One Last Call and the production team connected with their fans on a personal level, as is recommended in any social media campaign or plan.
For example: a recent accomplishment was Andy Rathburg's national spot in the Clay Matthews Green Bay Packers Fathead commercial.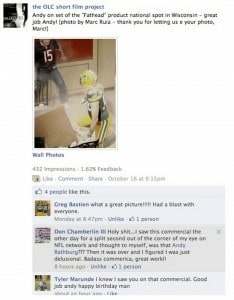 Within a few hours of posting one of the behind-the-scene photos from the set people were commenting and "Liking" the OLC page. Because Rathburg was tagged in the photo, his almost 3,000 followers were suddenly made aware of OLC's existence.
These techniques worked wonders. The corresponding posts were, in turn, re-posted and oftentimes tweeted. This helped drive people to the OLC page and "Like" it. The project also encouraged behind the scene photos and set humor, which resulted in a high rate of views and "likes" from the fans.
Made-In-Detroit: A Finished Weave via the Viral Shoe String

Since the release of the short "Made-In-Detroit" film, a cult following has been ever expanding. Mentions and references to the project continue and those who were involved still give wings to the Viral Virtuoso that has become Detroit's One Last Call success.
It was just a short film, made for a master's program capstone. Forty (40+) people came on board in the real world and thousands came on in the virtual! Not bad for a first film from a team of emerging filmmakers from the neighborhoods of Detroit.
Some Social-lite Advice to Close With
Pay attention to that social network out there because it is what helped launch the public awareness of this project and its team. If you, as a company and/or project, are not on the social network yet, then you are missing out on a lot of leads, ROI and awesome fans!
Thank you Social Media for stepping to the platform!
And we now close with the teaser trailer from the film – hurry before its time for your "One Last Call!"
———————————————————————————-
Reference:
Neilsen. 2009. Global Advertising: Consumers Trust Real Friends and Virtual Strangers the Most. http://blog.nielsen.com/nielsenwire/consumer/global-advertising-consumers-trust-real-friends-and-virtual-strangers-the-most/