Oneupweb : You Like-a Da Juice, ah?
After a bumper crop of concord grapes at my home's mini vineyard this year, I began my search for a juicer to help make some easy grape juice, and perhaps some homemade wine. Some of the other benefits that I was hoping to reap from owning a juicer was making my own vegetable juices, similar to an amped up V8 made from the local produce when in season. And to also make fresh some homemade fruit juice from the souvenir citrus fruit that my relatives bring back when they go on vacation without me.
With every purchase I make, the research process usually begins with gauging the price ranges for the desired product. While I dislike, and avoid using the phrase "you get what you pay for", this very much seemed the case the more I learned about the different juicer choices. So after establishing my price range, the research turned to the different types and options for the available juicers:
centrifugal, masticating, or triturating
variable speeds and overall wattage for power
size of the juice catcher and pulp container
pulp-ejection or non-pulp ejection
size of the feed chute, will it take whole fruits/veggies at a time?
stainless steel, porcelain, plastic housing
Can it also juice leafy greens? Could I make my own wheatgrass juice with it?

So many things to consider, but all of these different options are also clever ways advertisers can use to distinguish their products through their title tags, description tags, alt tags, and distinct URLs across their online ads and on their websites. These extra descriptive words can also help advertisers capitalize on those people searching with similar long tail keyword search phrases.
As I tailored my "juicers" search to "centrifugal juicers", "variable speed juicers", or "stainless steel juicers, the search engines began to display very different results, showing businesses and products that were more closely aligned to my particular search request. Dominating the paid and natural search results, I continued to see Amazon.com, Macys.com, and Juiceman.com as good sources for purchasing the desired products.
I noticed Macys.com dominating the PPC search results for my many search variations on "juicers", and also saw their name well established in the natural results for a variety of searches. Customer loyalty also played a part, as I know the name well, and Macy's always seems to have some good sales at my local store. I also had my Macy's card handy, which occasionally offers some additional discounts on the price. In the end, it was a combination of the dominance in the search results, the catchy descriptive ads, and the free shipping tag that prompted me to see what Macy's had to offer.
On the Macys.com website, I narrowed down my selection to a Juiceman JM550S Juicer, which offered the features I was seeking, was at a great sales price and offered free shipping. The search was now on for a few product reviews, to make sure this thing I was buying wasn't an overpriced lemon. As the Juiceman JM550S was a fairly new model, there were not a whole lot of reviews out there, but the ones I did find were positive.
During this product review search, I also stumbled upon many juicer recipe blog sites with people sharing their juicing ideas. As I have only gained expertise in the juicing of concord grapes so far, I was eager to learn more about different people's recipes and the overall health benefits from homemade, local, raw juice. The Juicers unite! You like-a da juice, ah?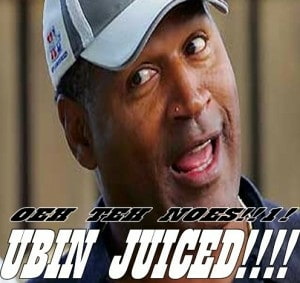 So squeeze all you can out of your online marketing budget, because as a marketer, you are not getting paid based on how much you spend, but on your return on that investment (ROI). Need a little help getting the most out of your SEO, PPC, or Social Media campaigns? Come see what Oneupweb can do to help.
How do you like them apples?