Oneupweb: Klout losing Klout?
Being the social-media-lite here at Oneupweb, I find that other Oneupweb-bers come to me for advice and guidance on the subject. A couple of weeks ago, we started the @OneUpWebJobster Twitter account to act as the voice for the human resources department. When one of our HR girls were selected to create and manage that account, she vowed that she would not get hooked. It was her first time using the platform.
Move forward to today and I open my e-mail to find an excited message from her about the @OneUpWebJobster account gaining a following. After a confession of starting her own Twitter account, I proclaimed victory – ah ha, hooked!
In turn, I suggested that her Klout score might be on the rise if she keeps up her influence. Come to find out, the girl was on top of that one already and was happy to report she is sporting a 41 right now. That is indeed awesome for just jumping onto the platform in the last two weeks. I checked my score and was delighted to find I was still at 40. All was good in Klout-field.
Then about an hour goes by and I decided to get some info from my Klout to put into some stats and to my surprise it dropped to 37. Hey, what happened to my 40?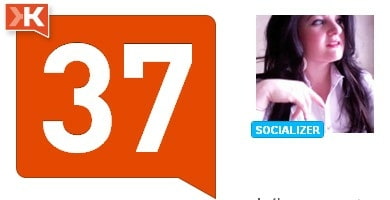 Even my Network Impact decreased… while nothing changed in my patterns in the last 24 hours.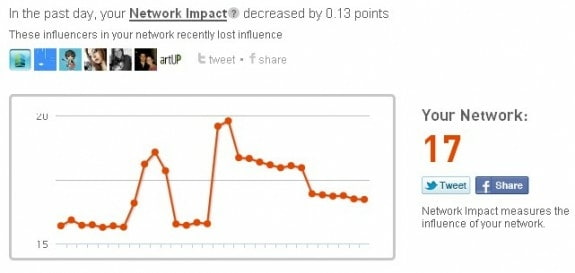 Last I knew, Klout didn't update on the hour but, instead, every 24 hours. Being the curious cat that I am I had to dig up exactly what had happened.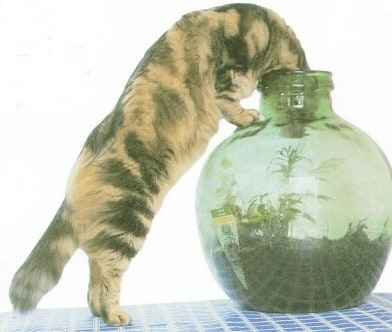 Soon I found myself on the Facebook for Klout and noticed a spike in complaints of the same scenario. All within the last five (5) hours.
– I sincerely hope that the new algorithm is malfunctioning or otherwise not working as intended. If it is working as intended, Klout will no longer by my basis for online influence. While it's just a number, it is a number that many including myself take very seriously. I have worked extremely hard to build, maintain and share content with my followers on a regular basis to maintain and improve my Klout. Currently my Klout dropped 18 points in one day, which seems absurd. [*This post has since been removed]

– Ok, I went from being 43 yesterday to a score of 14 today… can someone please explain how this can happen?

–  Mine dropped 15 points. Klout power user. This seems wrong!

– How does Klout Work? My Social network is increasing but my Klout score is going down. Doesn't make sense. Does anyone know how the system ranks you?

– Wow guys – a 12 point decrease overnight. Just remembered what happened to NetFLix when they were not upfront about changes and stuff… this is unexpected, and unexpected simply is not what we expect. Transparency means letting us know what is happening and when it is happening and why it is happening… BEFORE it happens. Credibility becomes much harder to maintain when it is under assault.

–  Mine dropped 14 points overnight — along with true reach, amplification, and my network… supposedly. The only thing that really changed, though, were my stats on Klout. Nothing is different in real life.

–  LOL….Klout gave me a good laugh today. I checked out to see if the increased engagement yesterday did anything to my score. It said that three of my other twitter accounts/profiles are no longer influenced by me!

–  Experiencing a major problem with my Klout account/s – I have 2 Twitter accounts but you won't let me link ALL my social media sites to BOTH so how can my scores be right? When I try to link my G+, FB, LinkedIn, Tumblr etc to my @raisingprofiles account it says they have been assigned to another user, that's ME @suecartwright guys, this is all wrong, isn't it?
One gentleman even posted a screen shot of how it was awarding him a Klout score reaching into the 40's when it clearly shows behind there he has a 53.  Oops!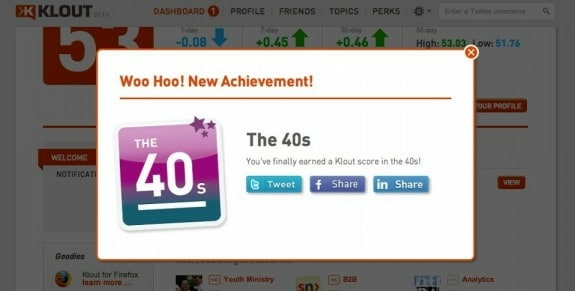 Shortly after I was reviewing this research Our OnUpWeb Jobster made a pit stop at my desk and let me know that she noticed her score went down a point from earlier. And we both agreed – the new algorithm that Klout is obviously experimenting with right now has some definite bugs to work out. I love that they are trying to get it to be more real time in reporting, but they need to get some of the elements more stable.
I also agree with what one of the people stated on Facebook: "won't let me link ALL my social media sites to BOTH so how can my scores be right?" I, too, have two different avenues influencing the social media world, and it would be nice to be able to have them both scored as one.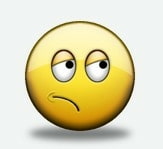 Upon this issue a fellow OneUpWeb-ber over in our PPC/SEO department shared with me that "maybe it's the 2.0 – oooooo technical!"
How about you? Have you experimented with the Klout scoring system yet and, if so, have you noticed glitches? Would you agree it's still too new to have companies out there going off this score?