Oneupweb : I Don't Have Time To Exercise!
Incorporating exercise into your daily routine is probably one of the most difficult things to do when you have a job, families, chores, pets and a million other things to take care of after 5pm. Sure, we can join the gym, but are we actually motivated to go? I know after an 8 hour day at work I am not thinking about how badly I want to pump some iron.
It has been estimated that 50% of the American population work desk jobs. We, of course, cannot blame being out of shape on our job, but rather the lifestyle that comes along with working in an office environment. It's all too easy to snag the closest parking spot and take the elevator to the desk that you will be sitting at for 8 hours.
My way of exercising has been rather unconventional lately. I recently adopted a Poochon (Poodle-Bichon Mix) puppy as a rescue. Shortly after his adoption I found out he had to be put on medication for two weeks. This medication had a side effect; it made him have to potty every two hours! So the mad dash began, up and down four stories of stairs with a record of 12 times in one day. Inconvenient, yes, but also a great workout.
In no way am I suggesting that you adopt a dog to get into shape, but rather use myself as an example that exercise can be incorporated into your every-day life. At Oneupweb we are fortunate enough to have access to a great work-out facility, as well as have the opportunity during lunch and our afternoon break to step away from our desk and stretch our legs. Some would even argue that Ping-Pong is their daily workout.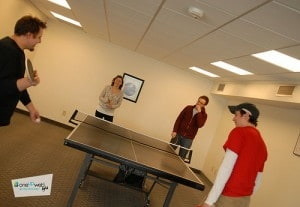 Oneupweb has also started offering Pilates classes to employees at our building on Wednesday evenings. The work outs are awesome and you can definitely feel the results the next day! (I have muscles there?!)
My challenge for you is to try and incorporate some exercise throughout your day. Take the stairs, walk on your lunch break or park in the furthest parking spot. It's amazing how many little things you can do to get in shape without even going to the gym.