Oneupweb : Faster (and Safer) Internet Browsing Using OpenDNS
Networked computers use Internet Protocol (IP) addresses to communicate with each other, but remembering an IP address can be difficult. This is where the Domain Name System (DNS) comes in.
DNS is a method of translating the IP address of a computer or service into a fully qualified domain name. For example, it's much easier to remember a domain name like www.oneupweb.com than it is to remember its IP address 209.124.45.85.
DNS servers publish the information which makes browsing to www.oneupweb.com versus 209.124.45.85 possible. Some DNS servers, especially ones provided by your Internet Service Provider (ISP), are typically slow to respond. Slow DNS server responses add to the time it takes a website like www.oneupweb.com to load in your browser.
To resolve the issue, I recommend the service called OpenDNS. OpenDNS offers DNS servers that are faster and more reliable than those provided by most ISPs. How?
"OpenDNS makes websites load faster because we have a global network of servers with sophisticated routing technology that enables your DNS requests to automatically go to the closest OpenDNS datacenter. Your current DNS service is likely hosted in one location and that could be far away from you. The OpenDNS global network also eliminates annoying Internet outages because there are many servers available to respond to your requests, making it the most reliable, always-available DNS service—no matter where you are in the world." – OpenDNS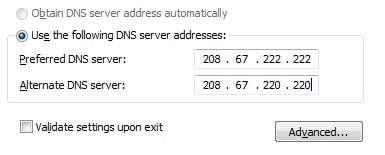 OpenDNS is totally free (for home use) and easy to setup on a single computer or home network. To start using the most basic OpenDNS services on a single computer simply change your Internet Protocol (TCP/IP) Properties so your Preferred and Alternate DNS servers are 208.67.222.222 and 208.67.220.220.
If you have a home network, simply login to your modem or router and make the necessary changes. OpenDNS published detailed instructions which can be found here. That's about all you need to do in order to start browsing the internet faster and more reliably.
If you want to take advantage of some of the more advanced FREE features, you can sign up for the OpenDNS Home service which provides, "A faster and more reliable Internet, Flexible parental controls that protect every Internet-connected device in your home, instantly and Built-in phishing and identity theft protection." – OpenDNS Parental Control Solutions.
Enjoy!