Oneupweb: Hootsuite adds APPS to the dashboard experience!
I'm a bit of a doppelganger: social media-lite by day and entertainment buff by night, often mixing and fusing the two in both realms throughout. And being a fan of Hootsuite I utilize the dashboard on a daily basis. So, this morning I was beyond elated to receive a personal e-mail from the company announcing their new APP Directory! Being that they provide dashboard features via Facebook, Twitter, LinkedIn, Foursquare, MySpace, and WordPress I have been in a mini heaven. I'm able to put all those social media platforms into one big soup and stir them up all day keeping mine, my client's, and my company's, Oneupweb, social-ness in the finesse.
On a personal note, I'm also an artist and one of my favorite social media platforms is Tumblr. It's a very visual blog and the artist in me loves that as do many other artists and designers out there.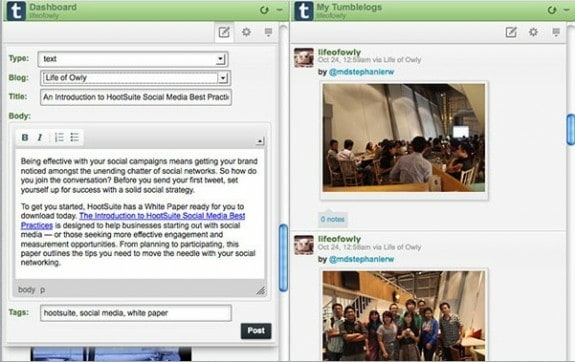 As you can see in the screen shot how the Tumblr App in Hootsuite works. One is able to upload, blog, and tag via Hootsuite. They are able to stay on the dashboard and not have to switch screens back and forth between platforms. So, say if you mention someone (via their Twitter handle) on Tumblr you will be able to instantly see it over on your Twitter Hootsuite dashboard in the same token. I really dig that!
YouTube, Flikr, and Get Satisfaction are also able to be Hoot-ed in all this delicious soup of social-dashboard delight.
To add to this great news is Hootsuite's invitation to other APP suggestions and/or APP developments. If you have an APP idea or one ready for implementation feel free to sign on through their developers online form.
For those who don't know Hootsuite is a social media communications dashboard often used for online brand management along with personal social media communications.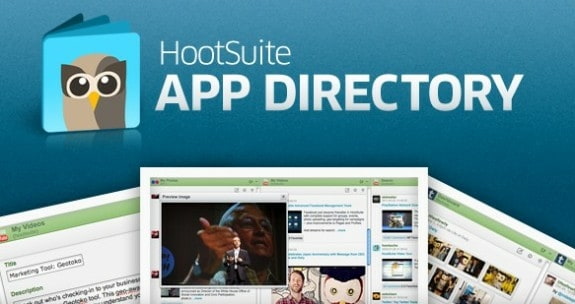 You can monitor and post to multiple social networks, including Facebook and Twitter and now Tumblr using the HootSuite dashboard.
The HootSuite App Directory is a collection of extensions and applications that HootSuite users can add to their dashboard to create a customized experience. These apps are built and maintained by 3rd party developers and companies expanding the social content ecosystem of the HootSuite dashboard.

If you are in need of some Social-ness to be kept in the finesse, please, contact us here at Oneupweb for one of our own social media specialist to help with your social make-over ASAP: What-Not-To-Wear style!
Any fellow Hoot-ers out there as excited as we are about this new feature? Please, comment and share with us your experience.