Oneupweb Reviews: Brand Mascot – in ode to Cherry Bear and Mayhem!
MASCOT: defined as a term for any person, animal, or object thought to bring luck.
CHERRY BEAR
Today, I watched a marketing video a friend of mine here in Traverse City helped create for a company out near the Sleeping Bear Dunes, the Cherry Republic.
Cherry Republic is located in Glen Arbor. It is a company that specializes in gift packages for what this region is known for – cherries!
The company's viral videos wasn't a method they usually employed until recently. It was a smart choice if you ask me. In reviewing their YouTube channel I see two videos.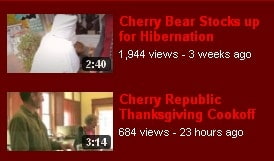 As you will see the two videos were launched within the last three week time period. The video my friend helped with was launched first. As of today, it has received 1,944 views. That is really good for a local company! The second one launched yesterday. It has already received 684 views.
As can be observed the company has a mascot. Their mascot is: Cherry Bear. I love how they implemented their mascot into the videos. The "Cherry Bear Stocks up for Hibernation" is clearly a day-in-the-life of the Cherry Bear. We get to see in the end of the video the bear resting finally to stuff him with cherry goodies on the beautiful Glen Arbor shores of Lake Michigan. In "Cherry Republic Thanksgiving Cookoff" we still see the bear present in little animations and artwork helping us through the flow of the video while also inviting us into the company culture via a yummy cookoff.
Also, love the little "mom, stop talking" blooper in the opening. So cute! Gotta love moms!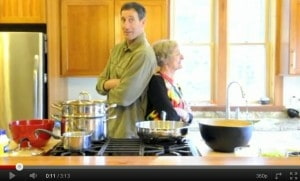 Indeed, Cherry Republic implemented an excellent idea within their company social media marketing campaign. Smart tactic, Cherry Republics!
MAYHEM
Let's take another one of my favorite mascots, Allstate's Mayhem.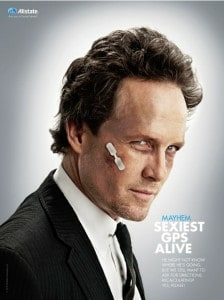 I'm sure he is a favorite for a lot of you. I mean, how amazing is that, that an insurance company hit a home run with accident and mishap topics via the "Sexiest GPS Alive!" This could be the only time you would hear many of us scream "GO Mayhem!" Well, besides those select few that mosh about at a Sex Pistols concert, which actually could make for a good Mayhem commercial.
By the way (BTW), finding a proper hyperlink for mosh about wasn't an easy task to avoid extreme profanity while holding classical music vs. death metal. So, make sure to click it and enjoy the musical dance of mosh and stage diving. It's my ode to Mayhem!

Mayhem Facebook Fan Page – notice we call it a "Fan Page"
The Mayhem character (mascot) has a huge following. Their Facebook fan page – note to the word "fan" – holds one million, one hundred and three thousand, four hundred and seventy-five fans [1,103,475]. That's a lot of likers! The fact that they have almost 50,000 people talking about the mascot in the last 24 hours within Facebook is also a stat number to get crazy over.
Imagine sitting in a social media marketing meeting and having that sort of feedback to a brand. "Is it working" someone asks. I don't know. What do you think?
Another interesting find I discovered on the Mayhem Facebook was the fan photos. I can't believe how popular Mayhem was this year for Halloween. GO Mayhem!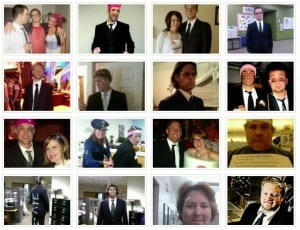 IN CLOSING
How about you? What do you think of company mascoting? Any insights? Any outside of the box stories? Share them. Would love to hear from you!
And now… I close with my ode to Mayhem once more: my favorite Mayhem commerical "Toddler Mayhem."