Oneupweb : Going Shopping Ain't What it Used to Be
Online shoppers set the record for the largest online shopping day in history with 2011 Cyber Monday sales reaching $1.25B. Perhaps an even bigger story is the amount of money online shoppers spent during the rest of that week online. Research from comScore claims that $6B was spent overall from Monday through Friday last week. On the Tuesday and Wednesday following Cyber Monday, sales reached over $1B each day, with Tuesday spending at $1.12B and Wednesday at $1.03B. Overall, the online sales were up 15% to $18.7B during November and the first two days of December, in comparison to the same time frame last year.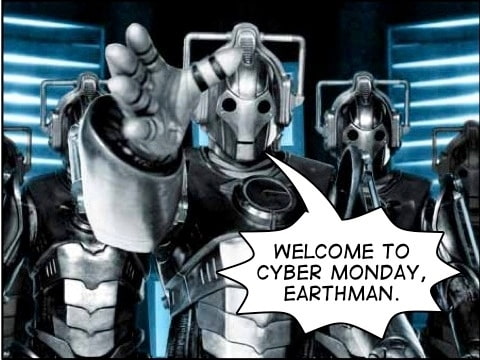 The staggering sales figures for this Monday – Friday, which could almost be considered "Cyber Week" now, is displaying how the tides are continually shifting from the brick and mortars to the online world. While the crowds and lines at the stores on Black Friday were no joke, with $816M in sales (up 26% over last year), I know a heck of a lot more people that are doing their shopping online this year, and stayed  as far away as possible from Black Friday. And while online shopping still only accounts for just 8-10% of all holiday spending, that is a number that has nowhere to go but up.
The exceptional discounts from retailers combined with the free shipping offers (in which about 63% of online retailers were offering free shipping, compared to the 52% from last year) had people opening their wallets in the spirit of giving, even if it was just gifts to themselves. How can you pass up those deals on a new flat-screen TV?
The onset of more and more mobile devices is another force driving the cyber sales. PayPal is claiming they had a 514% increase in mobile payments this Cyber Monday, compared to last year. This impact grows from more people becoming more comfortable purchasing online, and embracing the new mobile tools that allow them to do it easier, anytime & anywhere. And this 514% increase was only reflecting the mobile purchases made as of 11am on that Monday.
Click this link to view a 2011 Oneupweb webinar that details how to Construct a Social Media and PPC Holiday Strategy that Works! You'll see that Oneupweb and our clients were getting our holiday plans and campaigns together back in July when we hosted this webinar, so that everything would be up and ready to go when their customers were ready to buy. Online holiday shoppers are searching and purchasing much earlier than expected. "52.9% of retailers say they'll start their promotions by Halloween. This is up from 40% from last year." While it's still not too late to get in on the online holiday action this year, it's never too early to be getting your ducks in a row for next year's holiday season. Give Oneupweb a call if you need a hand with the planning and implementation.