Oneupweb : Google+ Brand Pages—What's Your Favorite?
It's no big news that Google wants in on Facebook's thriving market. In fact it's really old news. After all there was Google Buzz. Oh wait, but before that short-lived social attempt, there was the fail of Google Wave. Perhaps the search giant has more to offer than just search results—they provide the good life lesson: If you fall off the horse, get right back on. And by the looks of Google+, I think they're going to have a good ride.
Yesterday as I as writing some content on Google+ branded homepages, I jumped on over to the Oneupweb Social Team for advice and great recommendations—what brands were utilizing Google's social feature, and which ones were doing it the best.
Out of the list they provided me with, I was in awe by these two:
Macy's – Love the festive photos and how well they represent the brand. What I don't dig? The major department store knows how to utilize their window and floor displays, but they completely don't take advantage of their Google+ space: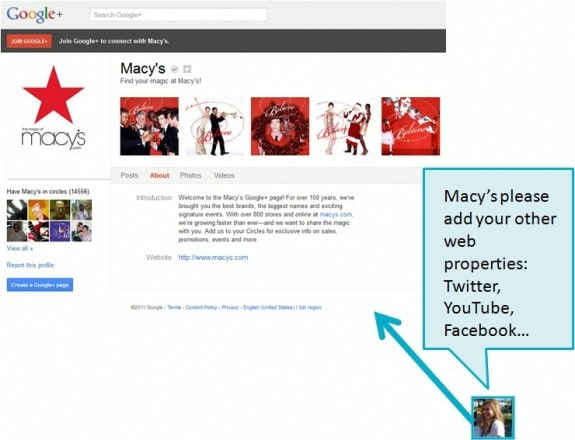 And as sweet as Cadbury's goodies are…I was a bit disappointed that they didn't keep their flavor going by listing their social properties.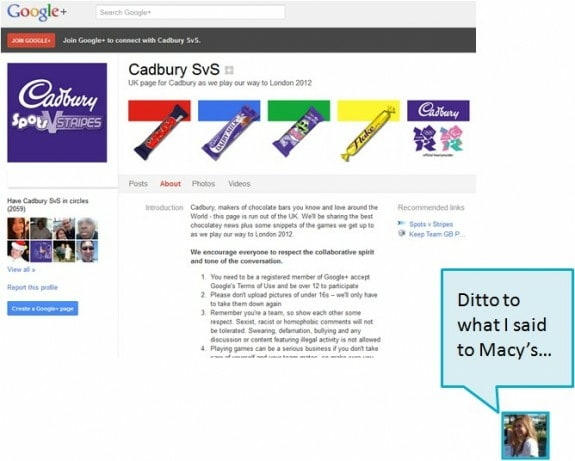 Macy's Google+ VS. Cadbury Google+…what's your favorite? Vote in the comments below!