Oneupweb : Can My T.V. Hear Me Now?
Just when I thought I'd invested enough hours into my Xbox, Bill Gates pulls me back in with last week's roll-out of his voice search application for the Kinect sensor. For those unfamiliar with the feature—simply plugging a headset into your Xbox, navigating to the Bing search app, and saying "Xbox" followed by a keyword brings-up movies, video games, and other content related to your search query.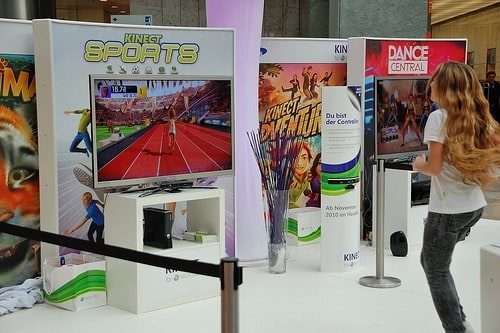 Being in the search optimization industry, I was able to convince my girlfriend during last weekend's shopping adventure that I should purchase the Kinect sensor so I could conduct what I called 'market research.' After several hours of Fruit Ninja, I finally began my research by searching for Simpson's episodes on Netflix and video games on the Xbox's marketplace apps. Like today's search engines results, the Kinect does an amazing job of categorizing content so you can sort results by television, gaming and a host of other mediums. This cataloging includes comprehensive descriptions of the content, along with suggestions for things you might want to check-out in the future.
Those quality descriptions may be why Bing's voice search is able to offer quality content even when the query isn't exact. For example, simply saying "Xbox, Bart" would return results for the Simpson's—partially because Bart's name appears within the descriptions for various Netflix episodes.
It's hard to knit-pick such a sophisticated piece of voice recognition software, but I did find that Kinect's search function didn't work if there was excessive background noise. Playing music at a moderate level was enough to interfere with a search, but that drawback can be easily overcome by speaking slowly and enunciating.
So what does Kinect's leap forward mean for the rest of the tech industry? Well, it has revitalized what was thought to be a failed endeavor: interactive television. While the Xbox Kinect merges movies, gaming, sporting events, and social media into one, its potential won't be fulfilled until users are able to search the internet with a function browser that responds to voice commands and input from the Xbox controller.
Microsoft's attempt to integrate the things we love under one box will certainly put pressure on Apple and other companies, but for users—it's the perfect marriage of usability and convenience. As Kinect and similar consoles evolve into entertainment and information hubs, search engines professionals will need to stay abreast of those emerging technologies, how consumers use those technologies, and what innovation means for search.