Oneupweb Reviews: YouTube's New Design – Pushing the Sell
FYI: The content shared in this blog has been written by two OneupWeb social team members known as the Dangeline D'SocialTeam – written in reading script format!
————————————————————————————————————
Angeline: This past week here at Oneupweb my partner in crime (socially speaking) and I have been on the topic of all the social network brand redesigns doing the baseball wave as of late. From Google+ launching their business pages to Twitter's new look for brands.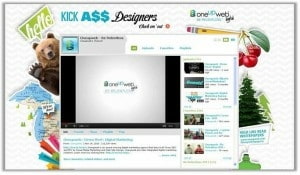 For this review we have decided to touch base on YouTube's new facelift. I wasn't so swept away by it at first, but Dan was.
Dan: Indeed I was, Angeline. Indeed I was, and let me tell you why. It is cleaner. It is more organized. It is more efficient. It has better analytics and options for customization for brands and channels. It has better integration with Google+, Facebook, etc.–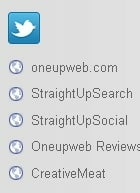 Angeline: — Really?
Dan: What?
Angeline: You're that "pro" about their face lift?
Dan: Of course. You're not?
Angeline: Hmm. Well, upon first trying it out I agree it is cleaner and a nice layout. But the initial navigation is not the greatest. I had to switch back and forth to the old design to the new a few times to get a sense of where I was going. I feel navigation for setting up the new design isn't as user friendly as I feel it could be.
For example –

The Default Tab to select to feature tab wouldn't for the life of me let me save it to that setting in one of my other YouTube project accounts. It kept giving me this notice that said I couldn't do this at this time. Maybe it was due to it is in Beta, I'm not sure, but it was frustrating me. I decided for now, at least for that account, to stick to the old channel design.
Dan: Ah that is interesting. It could very well be that it is in Beta, but hear this out. Let me share the YouTube specs. Although the YouTube redesign has been active for several weeks, branded channels must still manually opt in to the new look. I've summarized changes below.
NEW CHANNEL SPECS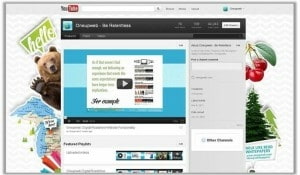 Background
The redesigned channel is 970px wide (a slight 10px increase over the old design) – this is constant, so any background image wider than 970px will be visible "outside" the channel.
YouTube recommends background images be at least 1024×768, but larger images can best accommodate a variety of screen sizes.
Background image cannot exceed 256 KB.
Background image will resize and center based on the user's screen size.
Channel Banner
A significant change over the previous design.
Instead of uploading a separate banner, admins can now opt for 1-150px of Banner Height Push to expose more of the background image.
Eliminated:
Channel Side Column Image
Video Page Banner
* These changes mean channels lose significant control over in-channel advertising, but also gain significant marketing tools like integrated Facebook and Twitter, etc.
Angeline: I will say I like the layout. It does feed to a more contemporary look and flow.
Dan: I agree. The previous layout was old school.
Angeline: Old school? Good call. Got anything not so "pro" for the new direction?
Dan: Well, I do, yes. Some features have been removed, including enhanced backgrounds for AdWords advertisers.
Angeline: In reviewing the new layout when it is able to have the feature video on first landing of the channel I do like the ability to showcase the playlists. You can control which playlists show and in what order. That is nice.
Dan: You're getting closer to sold?
Angeline: Hmm.[Long pause]
Dan: Really?
Angeline: What?
Dan: Its great, come on.
(Angeline leans forward intentionally not answering. Dan gives a look of "for real?")
Angeline: I'm also enjoying that you can pop in some related channels to your own channel. For example, if you have more than one YouTube channel and they are somehow connected and/or related you can now give your visitors a way to see that connection and click through. Definitely like that.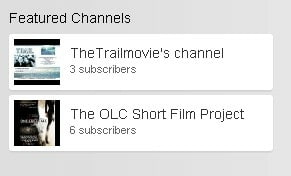 Dan: Sold?
Angeline: I don't know… got to chew on this one for a few.
Dan: Stubborn. You know what?
Angeline: What?
Dan: You're old school.
———————————————————————————-
So, what are your thoughts on the new design? Have you check it out? What are your pros and cons on the new options?
Meanwhile, you can get a Getting Started guide that is available from Google.