Oneupweb : "Christmas" and "Phil Spector" In the Same Blog?
I admit it. I'm not really in the Christmas spirit, yet. We decorated the house and the tree this weekend, but it just wasn't the same without the "s" word on the ground (I'm not referring to "Scotch"…that would be in my belly).
The few hour long process was made a bit more bearable with the trifecta combination of Brad, the kidlets and some groovy Christmas music, not to mention the ongoing, and unspoken, outdoor light competition with our neighbor.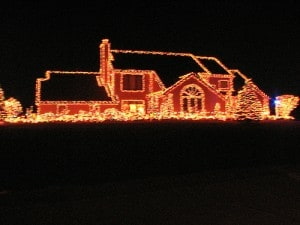 I the love Christmas season, and I love the spirit. I love my Uncle John's salad (extra black olives for my fingers, please), I love Honeybaked Ham and the Cribari jokes. I love dumping out my stocking stuffed with nail files, only the finest Chap Stick and scratch off lottery tickets. I think the one thing I really don't like about the season is the endless barrage of icky Christmas songs I am subjected to and make my ears bleed.
And, I know… I'm not supposed to complain about it…geez, it's Christmas after all, Scrooge! Fortunately, I've learned, I'm not alone. Thanks to my colleague, Mitch, he informed me about an awesome "December Madness" poll currently in progress:   http://jezebel.com/december-madness/. This bracket-type poll is designed solely to determine what the "Worst Christmas Song Ever" is. That's music to my ears!
Excuse me? Worst Christmas song ever? That's like saying "which is the ugliest of the two rainbows" or "which unicorn was the more, um, "unicorniest?" Yes, many terrible Christmas songs exist—songs so horrible that their mere existence undermines the ENTIRE holiday season! Ok, just being a bit dramatic there…sigh…
Put in a Christmas album by Nat King Cole, Bing Crosby, The Carpenters, The Jackson 5 or Phil Spector (before he was struck by lightning and started murdering people) and I'm in heaven… although I probably just showed my age.
Speaking of age, we here at Oneupweb don't care how old you, or your company is; we can help you with your digital marketing strategy. We have a Christmas tree of services, with "branches" for SEO, PPC, Social Media and Design. Let your Christmas present to your company this year be contacting your Cyber Santas at Oneupweb.