Oneupweb Reviews : Facebook Timeline
Facebook Timeline is finally here – and in the few short months since its announcement at f8 in September, the "story of your life on a single page" has taken on quite the life of its own as the target of a high-profile lawsuit and privacy advocates alike. On Monday, however, Timeline went live worldwide (though Facebook – in its awesome benevolence – is giving users until Dec. 22 to hide their skeletons). Of course, the social world went bonkers. Of course, the dramatic "That's it – I'm officially DONE with Facebook" types signed off in protest … and then, missing their outlet for dramatic expression, quietly reactivated their accounts. Of course, nothing really happened.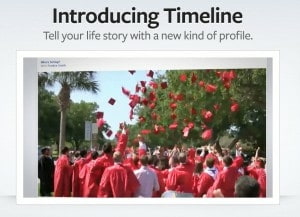 Still, Facebook Timeline represents the most significant redesign in the network's history. Here's the deal…
In the "Like" column…
DESIGN
Considering what "The" Facebook looked like waaayy back in 2004, Timeline is a grand slam. There's no denying that the new cover photo offers a lot of potential for creative types. Photos and videos really pop on the new two-column layout, and the revamped "About" section is cleaner and better organized for our increasingly diminished attention spans.

STORYTELLING
With Timeline, Facebook fires a no-nonsense shot across the Creative Memories bow, offering a new kind of digital scrapbook – and you don't even need a $20.85 tape runner. Rather than simply curate your life since joining Facebook (which Timeline does), the new profile allows users to fill in the missing gaps, because, you know, we're all just dying to know what you're up to when not posting status updates about your super adorable kittens and being 80 percent finished reading "The English Patient" on your Kindle. Really, though, allowing users to fill in the gaps only strengthens Facebook's status as the one-stop shop of the social world. And, with an expanded 63,206-character limit, who needs that old LiveJournal? Well, maybe this guy.
In the "Dislike" column…
PRIVACY
Facebook maintains that Timeline lets you "control who sees your stuff." And, technically, this is true. However, Facebook's own Timeline is hardly one defined by respect for user privacy, and the new profile will only make integrating stronger, easily understood controls more difficult. Creating the world in seven days is pretty ambitious, but herding 800+ million users into redesigned profiles in the same amount of time? That's just nuts.
REVISIONIST HISTORY

Because Timeline makes it easy to fill in the gaps (see above), it's also possible to recreate your past. As Alison notes in this interesting post, the ability to edit Timeline content means its record is not exactly reliable.
What do you think? Facebook Timeline: Like or Dislike?