Oneupweb : Successful Tunnel Vision: Concentrating at Work and Online!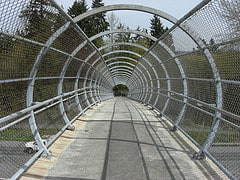 In 11 days I will officially have my first 90 days as a OneUpWebber under my belt. Throughout these first 3 months, I have learned a whole host of things. Most importantly, I have learned a multitude of things that will help me serve my clients more effectively as an SEO Client Success Specialist, but I have also had to learn the skill of maintaining my concentration while working in a consistently busy and thriving office.
In my previous job, I had an office where I could tune people and noises out with ease. Since we are engaged in an ever-changing industry, my new office is amongst several of my peers in a wide open space, which creates a great learning and team building environment; allowing us to bounce ideas and solutions off of each other more efficiently. On top of that, we have a fantastic blend of music that plays overhead and three adorable dogs that roam around the office daily. While each one of these things makes coming to the office every day more enjoyable, at times I have had to learn how to tune them out.
So, naturally, this was one of the things I needed to perfect at my new position on the SEO team at Oneupweb. Through some of my own research and experiences, here are a few things that I have found to be helpful:
Use your hands as blinders and treat your brain as a camera. This is a great tip from the communication specialist Sam Horn. Allow your eyes to be your camera's aperture and focus. Our brains are accustomed to thinking about a variety of things at once and our eyes are used to operating in a wide angle view, by visually taking in our entire surroundings. If you are having trouble focusing on the task at hand, cup your hands at your temples and create a telephoto lens for your camera. This helps you maintain your focus entirely on the computer or paper in front of you. By repeating this action over and over, your mind becomes trained to focus and tune out those around you when you need to.
Match your project work flow with the times of day when you have the most mental energy. Complete your most complicated tasks in the morning or after lunch, when your mind is fresh and has had a chance to recuperate.
Take a few short breaks throughout the day, instead of one long one. At Oneupweb we are fortunate enough to have two 30 minute breaks as part of our work day, instead of the traditional hour long lunch. We take a 30 minute lunch break anytime between 12:00 and 1:00, and we then have an afternoon break at 3:15. This not only helps break up our work days, but, I feel, it helps give me a mental break, so that I have more an opportunity to come back to my desk refreshed and with a clear mind to complete successful keyword research or write more fantastically rich keyword copy for our clients' websites. Could you possibly set up your days to involve the same amount of break time as you currently take, only spread that time out throughout your work day?
Although these are just a few tips to help with your personal concentration in the workplace, Oneupweb can also help your company concentrate on its web presence. We offer a variety of services including search engine optimization, pay per click advertising, social media services, web design and more. Check out our services today, to help your client's stay focused on you!