Oneupweb : Holiday Travel Solution!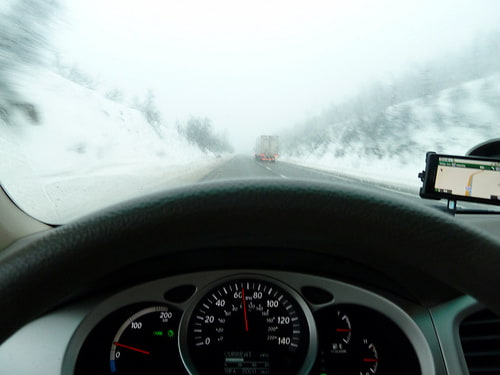 Ahhh. 'Tis the Season of Light folks and, by that, I of course mean runway lights. I've spent many Christmases in Traverse City. But, I've also spent quite a few abroad, in places like San Cristobal de las Casas, Chiapas, Mexico and Antigua, Guatemala. This year, my little family and I will be hitting the road once again. We're fortunate enough to have family and friends along the way, so a place to stay won't be that big of a deal this time. However, with so many people traveling for the holidays, life will get a little rough for some of the folks who have hit the road with little prep time. Hotels in major cities are most likely booked, especially in the bustling downtown regions. Finding a room here, or anywhere else for that matter, will cost you this time of year! By "cost," I mean either money or that ever taken for granted feeling of security, as you are forced to choose between a $500 per night room (usually only $150 per night) or that little motel you passed an hour ago that had the flashing "vacancy" sign just above the text that read "By the night or hour."
For the masses that have hit the road without a clear destination or active reservation, there is hope! I present to you my new favorite travel site: airbnb.com.
What is Airbnb? It is a site where amazing apartments are offered for rent by their equally amazing owners in the cities that you will be staying, at prices far less than an average hotel stay (and far FAR less than the average holiday hotel stay).
If you're anything like me, you like to see some examples before you begin to believe the awesomeness being sold to you. So, let's do some exampling, shall we?
I adore Chicago. It's close to TC (I can drive there in about 4 and a half hours if I have clear roads and no real traffic) and it has been my partner in some truly phenomenal memory making. Before I discovered the wonder of Airbnb, I paid anywhere from $200-$600 per night for the pleasure of staying within the city limits, save for one time when I stayed at the Congress Plaza Hotel and paid one hundred something, but that's a whole other blog about how people don't appreciate history and whine way too much (I loved it, others have hated it, blah blah, like I said, another blog, another time). Since discovering Airbnb, I now pay between $60-$175 per night. Check this joint out as a perfect example of what I am talking about here! Not only are you getting an ideal (and usually insanely expensive when staying in a hotel) location, you're living like a local!
Worried about spending time in someone's apartment? Don't! Check out the reviews on apartments that seem to fit your needs, the owners are often mentioned and reviewed as well. Most of the hosts are hip folk, ready to help you enjoy your stay to the max and show you a bit of a local experience as well! For me, Navy Pier is amazing, but those hole in the wall blues joints and out of the way markets and eateries are what makes Chicago my absolute favorite place to be!
You can be part of a completely new experience with Airbnb, you'll rediscover a city or town that you thought you truly knew! The host I highlighted, Maggie, lives in her apartment and is there while you stay with her. But, no worries! If you prefer a place to yourself, Airbnb has plenty of options for travelers wanting an apartment space all to themselves. Just read the description and the reviews. Owners make no secret of the fact that they either are or are not there while you rent.
So, to wrap this up (holiday pun), if you are heading over the hills and through the woods, there's no need to panic! Grandma's rock hard sofa will not foil your Christmas fun or prolong your New Year's hangover this year! Hit up Airbnb.com and turn this trip into an adventure! A true travel experience, firmly ensonced in the local-ness you've never known; that, my friends, is the only way to go!